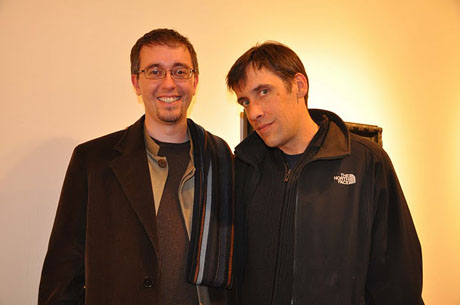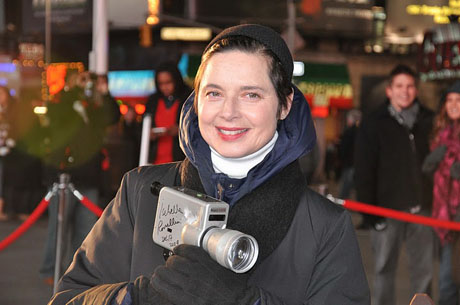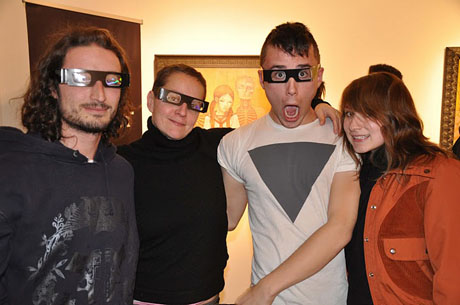 Amidst a crowd of hipsters, artists, and photographers, one could spot the lovely Isabella Rossellini, sporting a rather interesting smurf-like headpiece. Rossellini was the head judge for the Babelgum Metropolis Art Prize, Jonathan Levine Gallery hosted the after party, allowing guests to mingle with the winners and runner-ups.
The event was one of Times Square Alliance's innovative efforts to bring cutting-edge art to New York. Chris Coleman's animation The Magnitude of the Continental Divide took home the $20,000 prize, to which Rossellini added, "Artists need money." We couldn't agree more. Coleman's animation was chosen out of five hundred submissions worldwide. After Coleman, other runner-ups spoke about their projects, looking all around enthusiastic to even be mentioned as one of the nine finalists.
Later in the evening, the drinks flowed and a live interactive DJ Sweat Shoppe, captured our attention with a 3D techno show. Through good old-fashioned 3D glasses, we were treated to a 3D video that could best be summed up as psychedelic 80s pop, with a touch of surrealism. Imagine Salvador Dali taking over Disney's 3D animation team. That should put you somewhere in the ballpark. After a few cocktails, the techno beats and 3D display put this observer in a comfortable trance.
For more information about Metropolis, please visit www.babelgum.com/metropolis.
Below is a press release as offered by Cataldi Pr.
The first edition of the much-buzzed about Babelgum Metropolis Art Prize, an international search for the best and edgiest in video art, came to a dramatic close with a free public screening of nine winning art videos in New York's Times Square last night. Head contest judge, actress and artist Isabella Rossellini, braved the sub-freezing temperature, along with many of the winners, contest judges Lee Wells of the Perpetual Art Machine and Time Out NY art critic Howard Halle and assorted art-lovers for the screening, which concluded with the premiere of "Send Me to the 'Lectric Chair," an art video short co-directed by the actress and Guy Maddin. The actress also graciously posed for photos with winners including Denver's Christopher Coleman, who won the $20,000 grand prize for his work "The Magnitude of the Continental Divide," and many of the thousands of curious onlookers who took in this bold expression of art in the world famous square, made possible with the support of The Times Square Alliance.