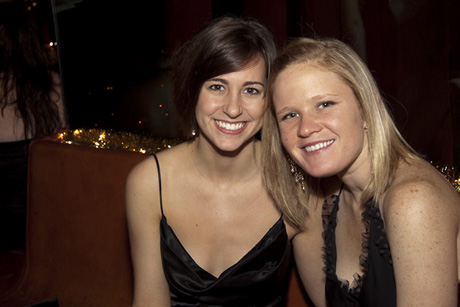 With winter rapidly approaching, the Aspen Social Club fittingly played host to 1st Annual City Lights Gala.  Amidst the hustle and bustle of the Midtown Christmas tourist infestation, Aspen Social Lounge brought us into a chic ski lounge, sans the ski lift.  The ceilings were decked with antlers and the flat screen fireplace by the bar kept the guests digitally cozy throughout the evening.
Co-Founders of History Starts Now, Rachel Ann and Kristina Lee, organized the event to raise funds and awareness for sex trafficking among minors.  It was shocking to hear how this is happening not only all over the world, but in America as well.  Having spoken to several of the guests at hand, it seemed as though many were sincerely determined to support the cause, and prevent these unthinkable acts from occurring right now.
Other guests included actors James O' Connor from "The White Collar," and Joseph Perrino from "The Sopranos" (he was one of the kids from Barry Levinson's movie Sleepers…good movie.) Drinks of choice were champagne, and there was plenty to go around.  With hors d'oeuvres merrily being passed around, the bite sized pumpkin cupcakes by Tawny Ong were exquisite.  For a person who rarely caves to sweets, it was difficult to avoid a second trip back to Tawny's tray of goodies.
Later in the evening, RachKristina, and other members of the History Starts Now team provided a personal story that seemed to have touched the hearts of those gathered around.  The notion of how close we are to the sex trafficking of minors really hit home.  Let's hope their efforts and the help of others can put and end to these atrocities once and for all.  To find about more about the cause visit http://www.historystartsnow.info/.
More Photos on Page 2 and in the Scallywag Photo Gallery!