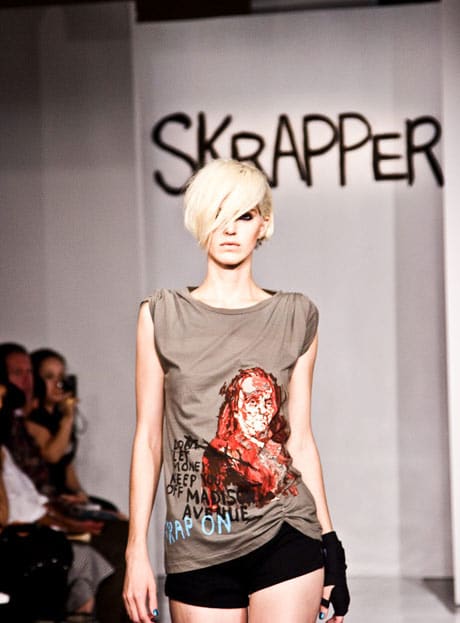 Turning up to William Quigley's and Katie Theofilis collection of SKRAPPER was an exercise in attitude, down town verve and the kind of stunts that you kind of only expect to see in movies. To be sure it was a great production (pity that they stole my notes but even this made sense…) and as for the clothes, or rather the t-shirts, just hurry up and buy one and become your own super hero- after all it's about time….
When Quigley's models started prancing down the RED BULL Runway space (prancing?  That's the wrong word- let's say lethargically stumbled) I should have known when they started sneering at us that we were in for anything but revved up electro glam and ass kissing from ditsy Real House Wife Celebrities (Countess you know who you are…). 
No – Quigley and Theofolis had ensured that we would be dutifully terrorized and yet very much turned on for the effort (but really Quigley who stole my notes?) and to be sure. With models sticking their fingers at us, poking tongues at us and essentially reiterating the SKRAPPER line – 'FUCK YOU – WE ARE BETTER THAN YOU.' Which although my interpretation is essentially in a nutshell the way it works. The funny thing is SKRAPPER is better than you
Now let's start with  the clothes, they were appropriately messy, greased up and it appeared the models were attacked by vermin before they were set on the runway. This of course only served to accentuate  the downtrodden rebel image that makes SKRAPPER your newest must have 'holier than thou' accoutrement.  Don't worry everyone will get jealous and will wont to be like you (assuming they dared).
With the models lighting cigarettes and blowing it in your face and walking around with heavy eye bags (make up or just Quigley only hiring models that never sleep?- the latter we are inclined to believe…)
With images of Muhammed Ali, the renegade boxer and Benjamin Franklin the collection was a brilliant poke at the celebrity culture that has turned on its head, ironical because the line is destined for its own celebrity clad status. With mottos like – "Bullshit, bullshit, name drop, bullshit" we couldn't agree more. Of course we'll forgive you if you name drop SKRAPPER. Now if only one of the untoward models who probably stole my notes just owned up.
SKRAPPER- cause once in a while we all need to take one step beyond who we are…
Go to Scallywag's Photo Gallery.
Skrapper: A fashion line that still fights in Spunk and the Downtrodden.