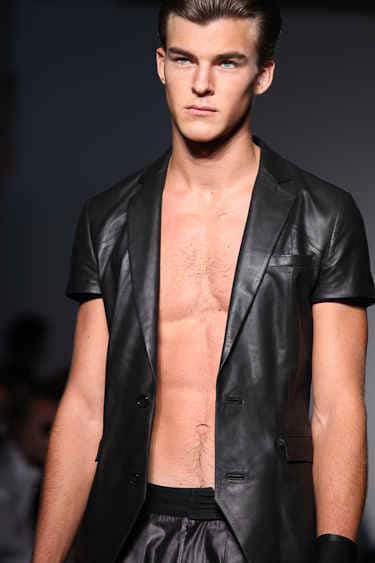 Guns up and arms out is the General idea for a Korean designers take on menswear for 2010. Bumsuk Choi had a very Grecian inspired interpretation on short sleeve trench coats, and men's strappy sandal's. I don't think I have ever seen such an awesome look for men's three quarter trench coats ever, but the confident young designer took the sleeves off of a classic men's coat to bring it to life as a unique fashion forward piece to brighten up any wardrobe. The cuts were very bold and the color scheme was very simple with splashes of color on a few spring coats to add flavor to a very confident man in the spring of 2010. 
Shorts and tops both infused a sort of southwestern style print that had a very hipster look when coupled with some of the three quarter pants and black high men's sandals that look like futuristic Jesus slippers. I was definitely blessed with a few new looks that I could rock this spring, and with the versatility and nuance of a classic men's runway garment, Bumsuk Choi is in a league all his own for spring/summer 2010. Styling was sick and so was the General idea of this show. Special thanks again to Williamson P.R, Bumsuk Choi, Alissa Lentz, Keith Lew and Seth Cohen at Exit Art. 
Go to Scallywag's Photo Gallery.