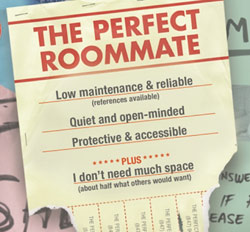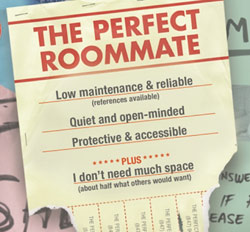 The best of what we've seen on Craigslist.
There comes a point in one's lifetime that they have to seek a room mate or become one themselves. That said we decided to conjure up the perfect room mate ad that you could ever possibly hate to ever come across. Of course we are tempted to run it soon. We wonder how many of you would go for it.
Ad would go something like this-
'Privileged hipster looking for other privileged hipster to move in.'
Share converted 'crack house/former high fashion' warehouse with good natured and very popular hipster. Located just off the hub of Bedford this gem of a space (2000 sq ft- of which I am only renting 300 sq feet out) has panoramic views of cafes, billboards and the BQE.

You will get a cozy space in the far corner of the apartment big enough for you to keep to yourself unless of course invited by me and my popular friends to hang out. Get lots of sun and pictures of Pee Wee Herman that refuse to peel off on your bedroom wall.
Me- Popular, good looking, and easy going hipster chick who likes to occasionally party and keep to her click. You should expect me to annoy the crap out of you every Sunday morning when I play "Joy Divison' –"Love will tear us apart,' in memory of my recent boyfriend who recently went back to his wife.
I am a vegeterian, non smoker (except when I start drinking) and obviously a poet.

You should be well spoken, sensitive, into world music and know how to make me feel good when I am in a bad mood (which is often). I also request references and at least one to two social mentions of you in smarmy but happening blogs so as to validate my appreciation of you and so I can also not be embarrassed when introducing you to passer bys.

Rent is not negotiable, and if you are late you will never hear the end of it and I will get my daddy on the phone and annoy the shit out of you. Hint my daddy is a very well bankruptcy lawyer.

I would prefer if you were also gone most of the time, kept to your side of the warehouse and only make pleasant small talk (which may or may not graduate to friendship in due course) and are at least somewhat photogenic as most of my friends are photogenic.
Pets are acceptable as long as they stay on your side of the room and are short haired.

Finally please don't be a neurotic, spoiled out of control bitch or I will scream. I look forward to meeting you soon.