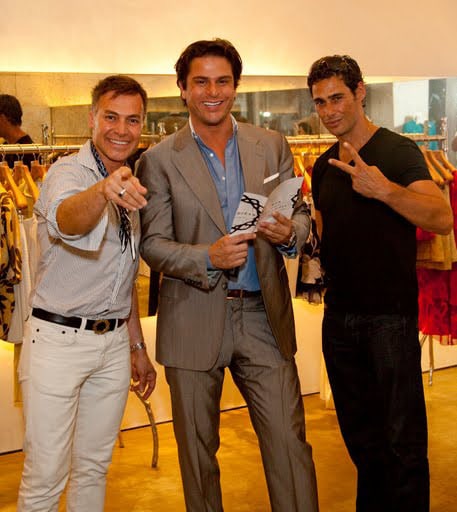 Functional luxury.  What do you think when you hear those words, spoken together, in definition of New York fashion?  Have I inadvertently fallen upon an oxymoron?  In one respect, I would say "yes."  Every woman has owned a pair of shoes, a wonderful pair of shoes, a pair of shoes that rival no other, that shape the legs perfectly, that lift the figure to new heights….and that are absolute murder to walk one block in, let alone to take a few laps around your fabulous friend's 1,000 square foot SoHo loft. As you enter this aforementioned friend's loft (it is his birthday after all and must attend), you will find yourself obliged to stand in one spot, and to lean ever so gently against the wall, striving to maintain the posture of a true homo erectus.  You must appear interesting to passers-by, for your stationary charms are the only things left to recommend you at this juncture—but your legs look just great.  Such consolation will soon fade from functional to arbitrary, and you will leave as silently as you came.  I exaggerate? Perhaps. But I have, on so many occasions, watched tragedies of this sort unfold, and with delight.  I have laughed with others at the staggered steps of a young ingénue painfully clomping down Broadway, eyes determinedly pointed to some unseen destination, slightly visible through the silent tears that veil her vision. 
Now, let us attend the rebuttal.  Enter Loris Diran, fashion designer and this evening's birthday boy. 
I traipsed by Loris' studio in sandals, slowing my steps to survey the scene with an unaffected glance to my right, and hastily ducked into an unlit portion of the street to change my shoes.  Yes, yes, chastise me for functionality without luxury; perhaps you, reader are the ingénue I have so recently slaughtered on the streets of Bowery. When you hear a laugh in the street, it is probably me and, yes, it's directed at your teetering frame.  It is a sweaty night in New York, and the hot breath of its stale air only exacerbates my neuroses and general cynicism of New York fashion.  I walk back to the door, No. 3 Bowery to be exact, and find Loris' birthday bash cum Spring 2010 taste test in full swing.  As I survey the scene from my newly acquired height, I cannot but admire the pieces on display, and I allow the cool lines and bright colors to awaken the tender sensibilities I have been known to exhibit. 
Loris sweeps to my side, the perfect host, and takes me on a walking tour of his collection.  
"My Spring line was inspired by the colors and styles of old Coney Island.  I channeled the vividness, the colors, the poppy reds, the navy and cream.  The fabrics I use are really traditional summer menswear, ginghams and so on, as you will see.  Here, see this?"  
I saw it, I touched it, and I wanted it.  In fact, I wanted all of it.  Loris' ability to reconcile nostalgia for the past to the figure of the present is inspiring.  Layered skirts, heavy pleats and rigid collars suggested the style of decades past, though the use of vibrant colors, finely tailored waists and playful hemlines was perfectly attuned to the present.   The crowd this evening was similarly suited to the occasion.  Loris surrounds himself with successful, and occupationally diverse, individuals.  Fund managers, plastic surgeons, event planners, real estate developers, an Italian Baroness and a charming French woman with aspirations to open a Manhattan boulangerie were all in attendance.
  "All of these people," Loris exclaimed with a wide sweep of the hand, "are what I live for.  They make me everything I am. Baroness!" 
This final exhortation showcased the surprising tonality of Durin's voice, and a woman materialized from nowhere, heeding the call.  
"Ah, Loreees. Yes, I met him when he was working for Chanel.  I see you have put stooocco on the walls, Loreees.  I like that."  
Go to Scallywag's Photo Gallery.