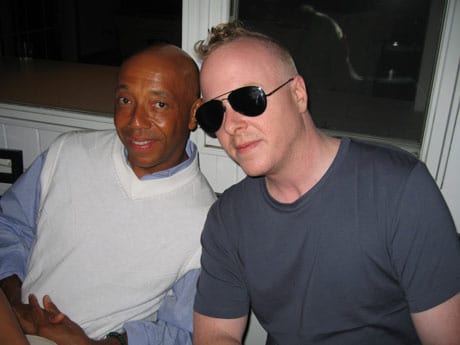 The last time I checked Izzy had been holed up in his studios for the last 26 hours, what he was doing was anyone's guess but at any rate I finally got Izzy to answer his phone. As I stumbled up into his massive studio I come across a man perched over his seventh floor windows and studying the visage of a panoramic sunset. His millionth cigarette clinging for dear life he then motions me to his offices where he looks at me like as if he were a world banker about to come up with the one and only world solution.
From his side I am joined by a somewhat giddy and barely self contained Ru Hasanov, cultural envoy to the next big thing staring Izzy in the face. On his other side is Zac, one of Izzy's protégés busily playing with screens in order to show me something.
"This is it," he finally motions. "I mean this is really it. This is what I was bought into the world to do. And I'm going over there to do it."
I briefly look at Izzy, his protégés, the obliterated skyline and back at Izzy. The what that Izzy is talking about goes something like this. I light up one of Izzy's cigarettes and listen transfixed.
"I've just been summoned by one of the biggest untapped markets in the world. They want me to come over and scope them out and see what we can do together."
For a while I listen confused, my cigarette dragging forever.
"Ru here, he's from Azerbaijan."
"Meaning?"
"Meaning I'm going to be going to one of the most happening untapped meccas in the whole world right now and bring them America." He pauses, "Hell, I'm going over there to bring them Izzy Gold."
It's at that moment Ru Hasanov leans over and prods Izzy.
"Yeah, that and explore the possibility of producing Azerbaijan's entrant to Eurovision."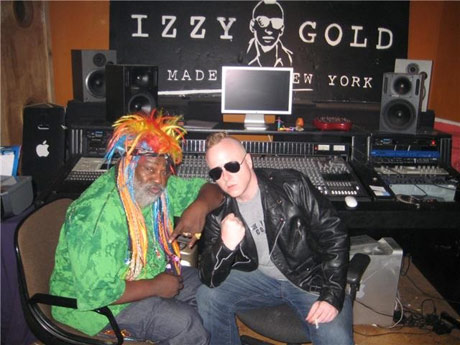 For those uninitiated Eurovision is what "American Idol," is to the music world but maybe five times bigger and if one has the cache to win it one can expect to launch a world following. It's only then that I find out that Azerbaijan's entrant came in third last year. By the time I finish bopping in my seat and listening to what Zac is playing me I am literally besides myself listening to a medley of electro Arabeque/ soul music with a beat the size of a thrashing sugar girl.
"Wow! What was that I just heard?" I ask.
"It's just the tip of the iceberg," Izzy leans over to me, his pale blue eyes naked finally under a pair of sunglasses that almost never come off.
"I'm going to go over there, listen to what those 'bad asses' have, show them love, and expose them to the next catalyst."
Izzy  Gold already a buzz in Ru Hasanov's  native Azerbaijan, starts telling me about the hummer limo that will be waiting at a separate entrance the minute Izzy's plane lands in the national city of 'Baku' and then off to 7 parties that evening alone. He and along with his business partner Vugar Khudiyev of Platinum Club and Azerilife (the record label run by Farid Mammadov) as well as Zahra Badalbeyli (Tonica Productions) the consortium bringing Izzy over  are already in the throngs of artists that they will be meeting and emissary missions for the taking.
"Izzy," Hasanov begins to extol, "is already beginning to generate buzz that we haven't seen in a long time. Izzy, we're betting is going to help us fully cross into the twenty first century, with our oil fields, gas pipes, rapid architecture and tourism, we need someone like Izzy to act as a metaphor for that youth's desire to embrace Western values and similarly have their values and aspirations re interpreted here in America."