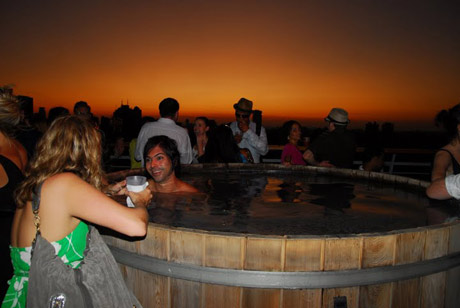 Summers in NY are about escape, sweating, dreaming and swimming. That said that is exactly what we got when we turned up at Jamie Gordon and Simon Ford's of Pernod Ricard (the liquor beverage family's) tete a tete at 107 Rivington yesterday.
 Situated on the two story penthouse at the Rivington Hotel we were greeted with a swooning sunset, surreptitious youths, svelte hips, sculpted faces and the azure of a fading red sunset. Delighted and at the same time disturbed at the sight of the hot tub (would we too be required to join in and expose those love handles?), we sifted amongst the hipsters, a young downtown  crowd (okay photogenic crowd) the aroma of hamburgers, hot dogs, cheese and mac and the canisters that held various well received alcoholic concoctions. We'd wish we took down the recipes but that said we found each rather agreeable , fragrant and well nuanced (I'm sure mine had Elderflower in it).
Coming across a bevy of young women (always young women…) my photographer and I spent the greater part of the evening harboring them and entertaining them with our general élan or perhaps lack of. At some point I tried to inhale one of the hand made cigars that were being made next to us but not before coughing vehemently and being called a woos by our photographer.
 Further treks had me running into the delightful Paula Reynolds a Pernod Ricard ambassador (well when I was growing up ambassadors were fat old men in flannel suits who spoke French and swore at each other) who was kind enough to explain to me what she did.