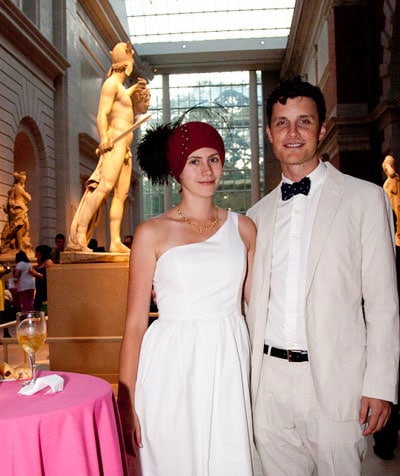 Museum membership as status symbol? It may seem a bit stuffy, but The Metropolitan Museum of Art has made a strong case to the under-30 set. Tickets to the heavily attended 'Young Members Party' were so in demand that Craigslist was littered with last-minute pleas for spares. Happily, the museum did not fail to live up to the hype. With a major cocktail party in the large sculpture garden, a sneak peek at the upcoming 'Model as Muse' exhibition, and a breathtaking night time view from the rooftop, guests had to be prodded to leave at the end of the evening.
I think the previous paragraph makes it clear that I had a great time at the YMP, but I can't say I didn't have some reservations. The party was, by design, engineered to allow beautiful people to get sloshed in the company of priceless pieces of art. But for most partygoers, the pieces that were sculpted by the ancient masters served as little more than fancy places to lay an empty glass.
Is this a problem? A symptom of living the life of the terminally vain? Or is it ok to treat ancient sculpture as an accessory to enhance a night of drunken debauchery? It might be. Think of the sculptors of ancient Greece and Rome- were they not of the privileged class, creating art for the privileged class? Perhaps they actually expected that their work would serve as a decorative enhancement to the lifestyles of the rich and famous. Either way, this event certainly defied expectations of museum-as-place for austere and quiet art appreciation.
And who were the revelers? The majority were your privileged Ivy Leaguers, UESers, and equity guys. Except for a handful of well to do art students in the mix, most partiers weren't there for the museum, they were there to brag to their friends later that they were at a party at a museum. (That's no real criticism. I, too, felt the allure of texting my friends my drinking location that night, both to share my excitement and make them a little jealous.)
Go to Scallywag's Photo Gallery.