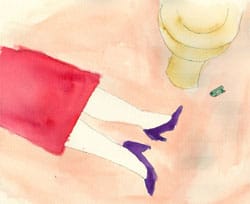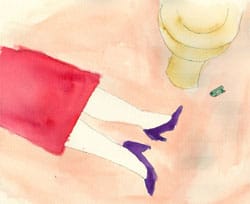 A perfunctory appreciation of what people with money and a lack of social skills like to do.
According to bar/poser connoisseurs –DBTH (Down by the Hipster) comes the story of a hot new venue (which even we have checked out….despite ourselves) – the Jane st Hotel where all the kids are having unabashed fun with themselves and strangers waiting in bathroom queues.
Giving us a run by run of the whereabouts of all the bathroom stalls (2 on the basement and 2 upstairs and God knows where else) the lads at DBTH then take to the task of observing who was parked where, who and what was exactly going on (yes they use a lot of clues because they resist being completely explicit –unlike us) and where the most 'blow' was being shoveled. (the 2 man boy and girl stall outfit on the basement floor it seems).
In any event we're all rather pleased to know that the jet set have all been able to move on from 'coke den' –"Beatrice" and have made a new place home.
We just wonder if the bathroom stalls can handle all the fun coming up for the rest of the summer…? But then again you already know the answer to that don't you?