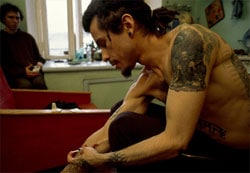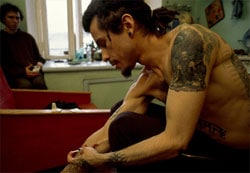 The people we love to care about now that they are dead.
Dash Snow is dead. So, too, is SACE. One was a drunken, faux-celebrity, marking the city, begging the world for his 10 seconds of fame. The other was SACE. In his death, he has achieved what he never could in life, a lamentable, tragic and much-discussed exit. He is finally at the mercy of his many admirers. And, those admirers are plentiful. Just as Michael Jackson, Billy Mays, Farah Fawcett and Ed McMahon discovered, like so many famous painters before them, death is as loveable and profitable as a homosexual art patron.
Which makes me absolutely sick to death of reading about their deaths. I don't give a fuck anymore what celebrity (however, loosely or broadly you wish to define that term) passed on. It is all a bunch of idle chatter and baying at the moon of a dying sun by a bunch of morbid, 14 year old goth girl emotion having bitches. And, our press is simply reporting it to: A. Sell more papers or B. Act like they were important because they knew the person who is only important now because he died. Got that?
Every single day, a million people die. Some from terrible self-inflicted tragedies, like the violent enslavement of drug addiction, and others from horrific accidents, bloody crimes or even passing away silently in their sleep, guided on the gilded wings of angels or whatever your religion believes. And, no matter how cliched or sublimely ironic their croak might be, it is usually silent.

Their relations moan and miss in mute. They cry their eyes out or they punch a wall or they get drunk and apologetically slap their girlfriend. But, they don't write long-winded, thesaurus-checked, perfectly grammatically corrected prose.
Death is silent and personal. So, stop mucking it up with your eulogies, your critiques of eulogies and your death machine of p.r. Peace to the fallen and the dead and the long gone who never got the hand-job of minor fame that is the shame of our culture's failure to be anything more then what we can discuss in others. The greatest men should be measured in the simplicity of what they leave – a weeping widow and a quiet home.

And, fuck the make believe memory of SACE and the rest. Be you in heaven, homie and let your people down here create their own destiny.