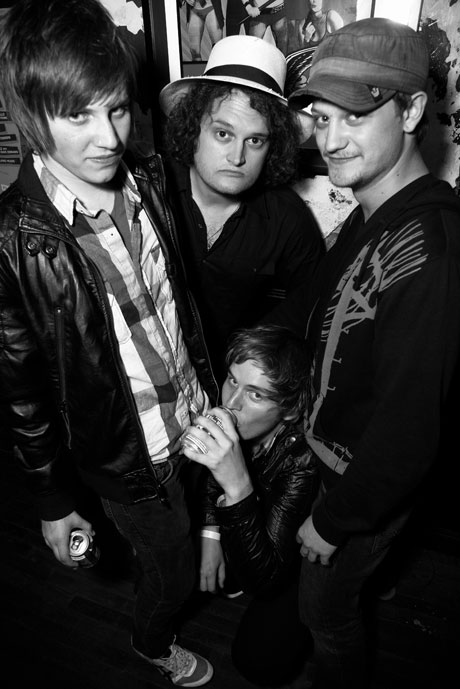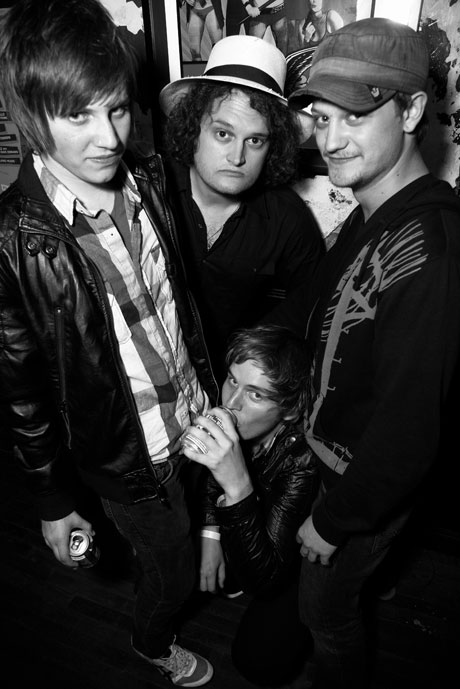 There's a moment while you're watching "TAB the band," blasting out their fusion of glam pop, rock and Rolling Stones collage that you look at yourself, the indie set wildly bopping away, the John Varvatos suits tucked neatly away and realize 27 years ago when CBGB (the punk alternative venue that we are now inhabiting albeit in a new forum) first came out their idea of what was going on this evening would've sickened them wildly to their stomach. Of course anyone there when it first came about 27 years ago would've had little foresight that the band playing there that night would still have the spirit of renegade outlaw and provocateur . 
The kids making out in the background in their designer poses and the ones just about to make out behind me have been shaking their drinking elbow in anticipation of the collective simply known as TAB or other wise- Tony, Adrian and Ben for a while now, (as well as fourth member Lou Jannetty) It's just when the band finally gets on stage, the kids unlock lips and start exhaling in wonder as Adrian Perry,  (the rock legend Joe Perry's son of famed band Aerosmith alongside his brother Tony) lead vocalist and frontman starts belting out savage cynicism assuaging the rush of the high life and the reality of daily drudge and reality. Rather than recoil the audience, a collage of downtown's hippest enclave are thumping their knees and wrists forward the way an abattoir greets his next flock of kill.
As I watch the band capture the audience's imagination I then head over to John Varvatos, famed designer who has allowed to make this evening a reality. The way it works every month John goes over a huge submission list of acts before settling on one act to bring in the monthly revelry and the revitalized  legacy to what was once the pioneer establishment of anti establishment before it ironically succumbed to the establishment itself.
SCV: I'm curious John, what inspires you to keep up this monthly series.
JV: I think it's nothing more than to pay homage to the legacy for what the space once stood for and was used for and that said I hope we can continue to foster talent, give it a space to excel and to keep the roots alive. Ultimately I'm just as intrigued as everyone in the room by the music and the willingness to discover exciting voices.
SCV: Speaking of which, what informs your narrative as a fashion designer?
JV: Well, I think it's something different all the time, I'm always coming across different ideas, people, scenario and that all comes together to influence me. I'd have to say it's all about being stimulated.
By now the band has come off the stage and reaching out for well earned drinks when I come across Ilan Lev, the band's manager.
SCV: So how did you end up managing the boys?
IL: Well I got to know the guys because they were friends with one  of my  friends.
SCV: Why do you go to bat for the band?
IL: Well I think they're great. They've got this combination of vintage, a touch of pop, amazing energy, presence and I think they're really striking a chord.
SCV: Not withstanding that the crowds go mad.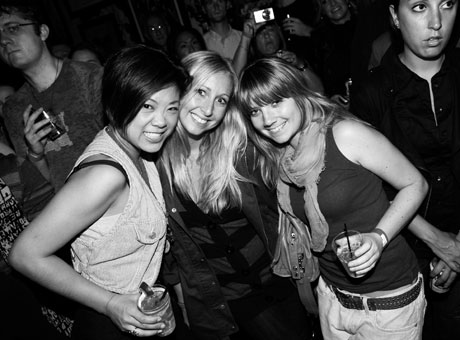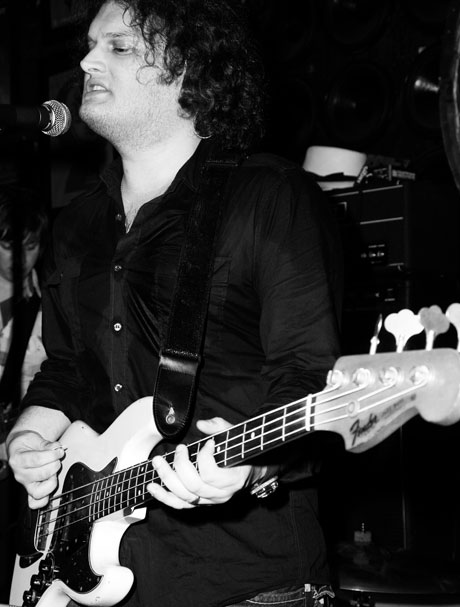 Coming across Adrian himself he begins to tell me the allure was to create a band that could go back to to the grass roots of what rock music was about. 
AP: Would I say we're teen idols?m Hell no, we're not clean enough. Indie? No, cause we love to play straight rock. I kind of feel like we're punk in a way cause if you look up the definition we're going against the grain. We're kind of playing of what once used to get played as opposed to the current pop/indie genre of music that one is always coming up against.
SCV: Who are some of your favorite musicians?
AP: T Rex, Cheap Tricks, Beatles, Rolling Stones. 
SCV: Who'd be your ideal version of a band?
AP: The Who, they've had such longevity and they're always so current. They all have such unique personalities, so free wheeling and as a group force have been so intelligent.
SCV: What can we expect going forward?
AP: More touring, cutting a full following of our tracks in the fall and our new EP should be out by August.
As I thanked Adrian and headed out to the streets of the Bowery I must've wondered to myself no matter whether if it was 27 years ago or just yesterday there would always be a hungry group of musicians with their unique vision, sound rearing to go and maybe that's what John Varvatos meant that ultimately he's just like the rest, equally intrigues to discover the next batch of talent. TAB comes very close to picking up that mantle…
Go to Scallywag's Photo Gallery.