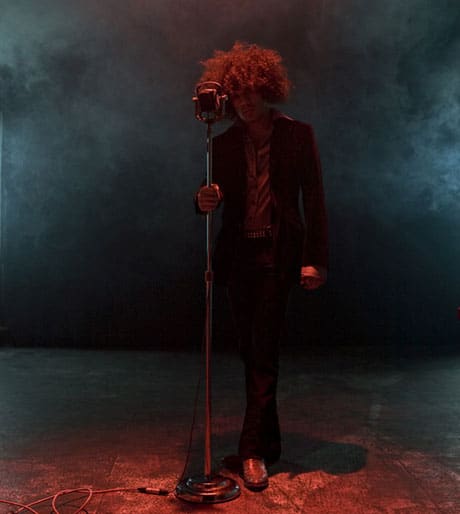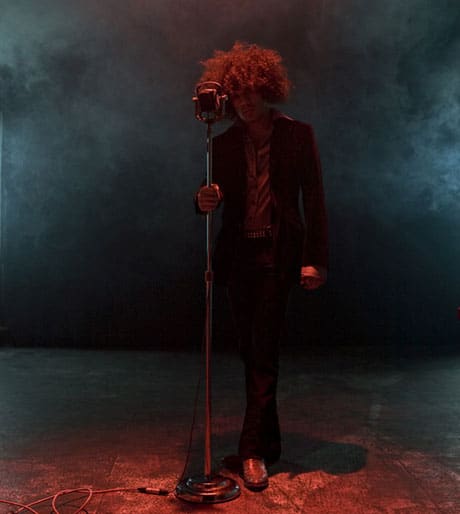 A lot of bands begin their journey haphazardly enough, perhaps inviting a few acquaintances to their first gig and putting up inscrutable fliers here and there. But Electric Black, being Electric Black, went a little further, hitting the streets with their instruments and a huge bouquet of balloons in order to personally invite random pedestrians to their opening show at Bowery Electric on the night of March 26th. When the big day rolled around, Electric Black played its first gig to a sold-out house.
The opening night success was only partly attributable to the balloon gambit. Despite having not yet released an album, Electric Black had already managed to pick up some attention by way of a couple of tracks the band had released via its MySpace page. In a day and age which overflows with new bands, MySpace band pages, sample tracks, and invitations from new bands to check out their MySpace pages and listen to their sample tracks, the clips offered by Electric Black stuck out like a three-legged kitten in a tractor factory.
There's something about Electric Black that inspires nonsensical metaphors. For one thing, the band possesses that hard-to-pin-down quality of the sort to which many bands can only aspire. The group itself most commonly refers to itself as "the most punk rock country-blues chamber orchestra on earth," which is certainly accurate, although the term "American gypsy music" has also been used here and there. Almost inevitably, written descriptions of Electric Black tend to evoke Tom Waits, with this due in large part to the vocal harshness of lead singer and songwriter Johnny B, who himself shrugs at the comparison.
"You know, [accordion player] Melissa [Elledge] has nailed this topic and nailed it shut. She says, 'Anytime someone can't classify something they say it's the Tom Waits of its medium." And she is dead on. I have, for example, called Stravinsky the Tom Waits of classical music. I know I'm wrong, but fuck it. It sounds cool and makes me look learned."
She's probably right; I myself once resorted to describing the group as sounding like "what Frank Zappa might have sounded like if Frank Zappa had been influenced by Frank Zappa and had actually been Tom Waits in disguise all along."
Besides, says Johhny, "Tom doesn't own the copyright on overdriving ones larynx nor did he invent the style. He ripped it from Capt Beefheart who stole it from Howling Wolf and God only knows who Mr. Wolf took it from."
In fact, the band's influences range among more obscure territory. Electric Black was meant to be, says Johnny, "a true hybrid of all the art and artists I have loved throughout my short life, from Tarkovsky and Kubrick in films, to Frieda Khalo and Magritte on the canvas. Countless authors, poets, and strangers I have met during my journey. The grand weirdos who have seemed to master some small aspect of 'the art of living'."
Envisioning the style that he was after, Johnny says, "I heard an orchestral sound in my head, but laid in heavy with blues and country and folk – a sound whose lyrical quality infuses the punk rock mentality with the subtle grace of Leonard Cohen and Lorca." And then, of course, it remained only for Johnny to find other musicians who wanted to produce the same improbable thing.
This was surprisingly simple, and Johnny is happy with the mix of talents that surround the project. "Lucas Leto (drums) and I have known each other way longer than is healthy and he pretty much reads my mind when it comes to writing a rhythm that can connect with the caveman in all of us. Doug Wright (bass) is simply God and I don't think he has ever played one wrong note. Jackson Kincheloe (harmonica/lap steel) and I really are the closest in musical taste as we both are blues men to our bones.  He can make any instrument weep and scream, which is all I ask of anyone who calls himself a musician.  Melissa Elledge (accordion/piano/organ) is classically trained and so refined that there is no way I can find fault with her.  She puts a spin on the sound I could never write, and gives us the real orchestral flavor. Georgie Seville (guitar) has got such a real feel for the blues and music in general. He may also be the only guitar player on earth who doesn't suffer from lead guitar player syndrome. Rhys Tivy (trumpet) is a prodigy. He's only 18 and can channel Davis, Baker, Armstrong on cue. But always with an original feel that's so smooth and dirty… like a well-oiled pedophile." All in all, Johnny explains, "The band is a group of sonic tailors dressing my raw and naked emotion in the finest low-down-dirty styles of the day."
Electric Black's first album will be released via digital download on June 16th; the band's album release show will be held on June 25th at The Delancey. Bring your own balloons.