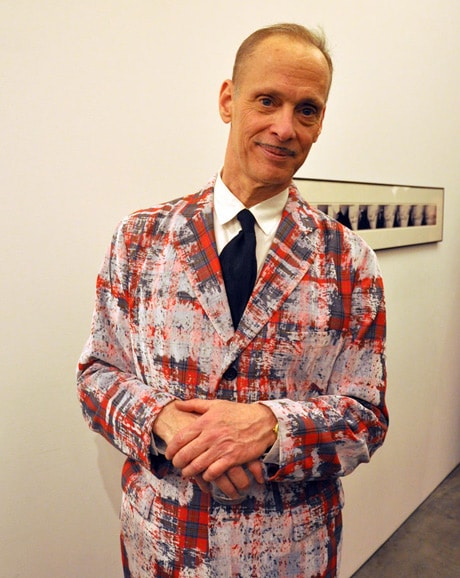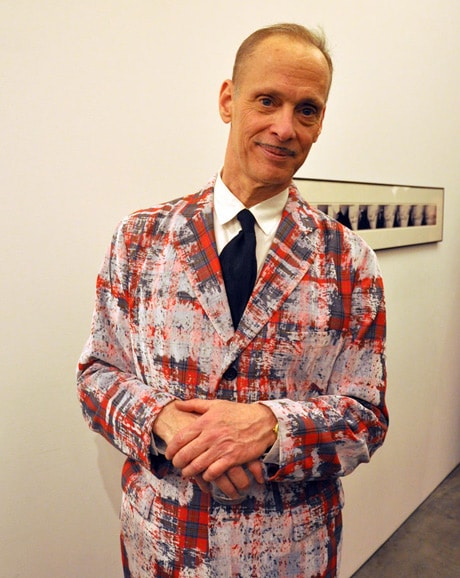 We love the recession. Seriously, it's great. Why? Because people maddeningly pant around town, tongues hanging loose like rabid wolves, looking to quench their empty little souls with any kind of perverse painkiller entertainment. This obviously creates the ultimate degenerate reality show for those who are immune to the greedy viral disease plaguing our world. The master of gimmicks, John Waters, along with accomplice Marianne Boesky, set up a trap for this unprecedented cast of wanna-be Divines last Thursday at the opening of 'Rear Projections' in Chelsea. Behind the sly smiles of the directors of the unrated show lay a truly naughty Scallywag attitude, which thrived on this perfectly manipulated voyeuristic experience.
The extras had ignored the warnings issued by the gallery's press release. Yet as most know, Waters creates "cult film[s] that only need one viewer-John Waters himself." So, although everyone in the white box theater regaled at the thought that their glamorous hipster-selves were being eye-licked by all others in the room, which usually does happen at Chelsea gallery openings, the only true delighted viewer was Waters himself. For him, April Fools is a year round holiday during which everyone falls victim to brilliantly grotesque sense of humor. Every photographic work was like a silent scream from Waters to the viewers. Didn't you know, "Contemporary Art Hates You!"
Waters loves to highlight the flaws and frustrations, the very little snippets of existence that allegorize our imperfect human nature. And the human masochistic subconscious must not be undermined, his critiques are highly sought after. His work pokes needles through over inflated balloons of pompousness, resulting in blasts of sharp humor which negates harsh realities. So, just like the "Contemporary Art Hates You!" piece indicates rather cunningly, the art wasn't there for the audience to ingest. The thirty-six photographs and four installations were merely stage props aimed at directing the giant human knot into its very own critique.