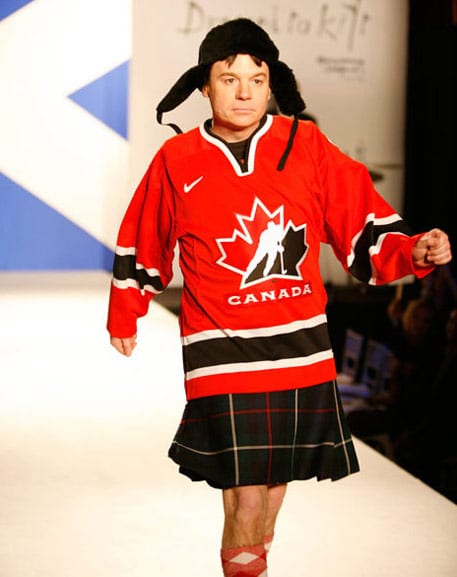 Monday night and Manhattan society has retired to the annals of Scottish meadows, bag pipes and a plethora of single malts. Whether by design or madness it seems everyone who has ever been a film star, is a film star, writes about film stars, wants to be a film star is here. This must've pleased Sean Connery the honoree chairman, but I suspect it pleased the lads and lassies holding on for cellular dear life more. If only we too could have walked the plank at 'Dressed to Kilt.'
As is customary when visiting Scotland I headed straight to the bar upon my immediate arrival. Nestled amongst the gorgeous set I ruminated whether to go for the 12, 15, or 18 year old Glenfiddich. Sold by the bartender ( a redhead to boot) I collected my 18year old (single ice cube thank you) and proceeded to wander somewhere where people like me with VIP wrists bands are suppose to congregate.
Satisfied that I had indeed arrived at the right part of the fence (all the inebriated ones were here) I took my place amongst the thoroughbreds. There were lads dressed in cashmere green vests, red bowties and a patina of silver dust on their cheekbones. The ladies were gilded to the teeth with strapless deep v tops, swept back hair and the tallest high heels one can possibly buy on 5th avenue. At times they seemed to be talking to each other but in my approximation they were really just lusting after each other. Such are the affairs of society.
By now we were all getting fidgety, waiting for the main event to commence. Some of us had taken to straddling the plush leather couches, others flicking through the Parisian law books –'La revue de Paris-1903,' on display by the faux bookcase and others had taken the last resort of being interviewed by scallywags such as myself.
SCV: Your name please?
Girl in high heels and Ferrari red top: Fabulous. How are you?
SCV: Can you possibly tell me what it means to be Scottish?
Ferrari girl: But I'm American!
SCV: Well if you were?

Ferrari girl: Oh? I'd have to get back to you on that. I just came cause I heard James Bond would be here. He's so sexy don't you think?
SCV: Perhaps you starred in one of his films?

Ferrari girl: Oh sweetie, can you pass me my drink.