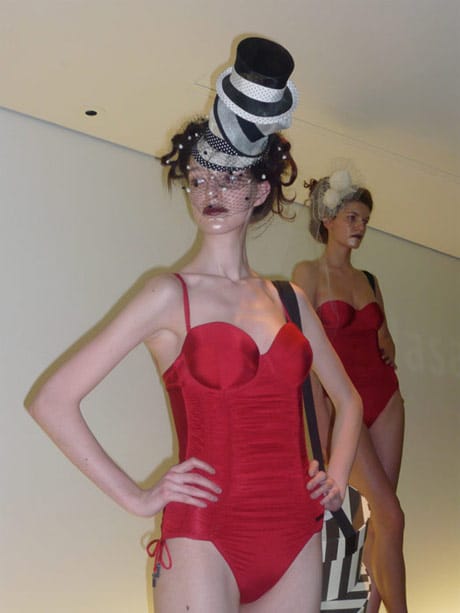 The New Museum started its three day span of events on Tuesday night, March 31st, making the bold declaration that Berlin is "The Place to Be." Their argument is that this city's fashion, film, art and design ideas are a hidden novelty waiting to be discovered by New Yorkers constantly seeking the next new thing. On the opening night, the topic of fashion, Berlin's most eager creation, was on display.
The evening started with an exclusive panel discussion on sustainable design between seven of fashion's most interesting characters relevant to the topic at hand. Melissa Drier, an acerbic wit and profound speaker who works for WWD (Womans Wear Daily) reporting on Germany, was precise and caustic in her criticisms of modern fashion trends. It is hard to hate on a Negative Nancy when all her points are positively true.
Klaus Metz, a co-founder of the ESMOND International Fashion School in Munich, reminded me of a more fashionable Karl Lagerfeld. Wait, what? Did I just say that? Yes I did. You didn't see his fantastic, classic ensemble so you simply can't judge my commentary. Dr. Cameron Tonkinwise shared none of their flair, yet his honesty and thoughtfulness was a refreshing counterpoint.
Simon Collins, Dean of Fashion at Parsons The New School for Design in New York led the panel with numerous conversational questions like:  What, in fact, is sustainable design? What does that mean to…wait a minute. Let's backtrack. The definition of sustainable design is not quite as simple as we all think. The assumed premise, and only apparent tie-in between the panel and the fashion show to be discussed, was that Berlin's clothes, made using local resources by small companies producing less waste then giant, American brands was eco-friendly. You've heard it before…D.I.Y. True, indeed.
But, where does that leave us girls who appreciate a classic piece of fashion not made according to the same standards? No doubt that the more mass-produced companies become, the more waste comes from them. Melissa Drier shortly describes this as "Landfill Fashion." I couldn't agree more. Have you seen the quality of clothing that is being produced in trend forward silhouettes and prints at stores like Forever 21?  Ok, so I know I said trend forward and Forever 21 in the same sentence but they are thoroughly over-saturating your splendid, spongy brain and, considering the economy, maybe even your closet, turning fashion into just another technological device. There are hordes of robotic teeny-boppers buying the most up to date cheap version of whatever was just on the runways. If it is cheap enough to buy two just means there is double the offense. What if we bought less and kept more?  Quality vs. quantity – it's not a novel idea. And it has application here too.
Should DVF be considered sustainable? Yes! You will still be wearing that same wrap dress five years from now. Less fashion pollution. Don't believe me? Ask Klaus who is certainly not parting with his skinny, black, designer tie anytime soon…or his ponytail. In today's mindset and economy, I just don't think that the masses of consumers fathom how truly relevant quality can be. They want clothing on sale; they want fashion at cheaper prices. Consumers might have heard about sustainable design but they are not informed enough about it. New designers have the opportunity…no, the obligation… in today's depressed fashion market to step up with creative concepts that push the green movement and the design aesthetic at once. Who better to teach them, then, then the fashion houses who have already cornered the market on long-term sustainability?