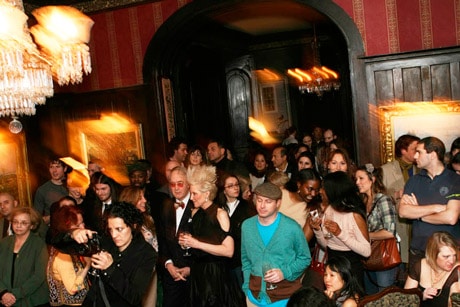 Getting into the National Arts Club last Friday was an outrageous production. The line was around the block. Frustrated shouts could be heard throughout Gramercy Park. And Hamish Bowles left in a huff. Yes, that's right. Hamish Bowles, VOGUE's Editor at Large couldn't (or rather, wouldn't) walk through the door.
I, however, managed to use my Scallywag skills and 6-inch stilettos to breeze through security, teeter up the stairs, rub shoulders with the Andrews and waltz into what was apparently the event of the evening.
So what was all the fuss?  The celebratory opening of HARD/Soft; a fashion-meets-art exhibition co-curated by the Club's Chief Curator of Contemporary Art, Stacy Engman, and Vivienne Westwood's head of couture, Brigitte Stepputtis. The show not only dared to blur the line between art and fashion, but brought together the works of 6 female artists in order to examine the extremes of female perspective.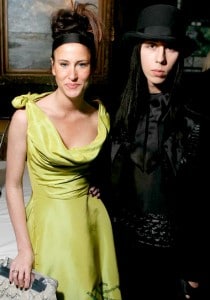 Stealing the show with her exquisitely tangy lime green cocktail dress (Vivienne Westwood Couture, obviously) Engman glided over to the Scallywag station to discuss the exhibition.
"The show looks at the feminine as an archetype and the expressions of that," explained Engman before breaking to strike a pose with the wonderfully eccentric Diane Bernhardt.
Smile. Pop. Flash. And we're back.
KZ: Recently, we've been seeing more and more of a crossover between the fashion and art worlds; artists are doing instillations in boutiques, collaborating with designers on collections, etc. How does HARD/Soft comment on this?"
SE: This project gives a nod to the crossover that's happening. But it's first and foremost about the artwork.
And it was about the artwork, in a sense. Katherine Bernhardt's sassy abstraction was wildly captivating. The dark, large-scale portrait featured a deliciously distorted femme fatale who, despite her running eyeliner and curious pout, shot piercing daggers through her big blue eyes.
Tracy Emin's softly vibrant neon instillation was also a success. Radiating a bright white, the artist's slanted handwriting read You Should Have Loved Me, and evoked an emotional response that falls somewhere between sadness and strength.