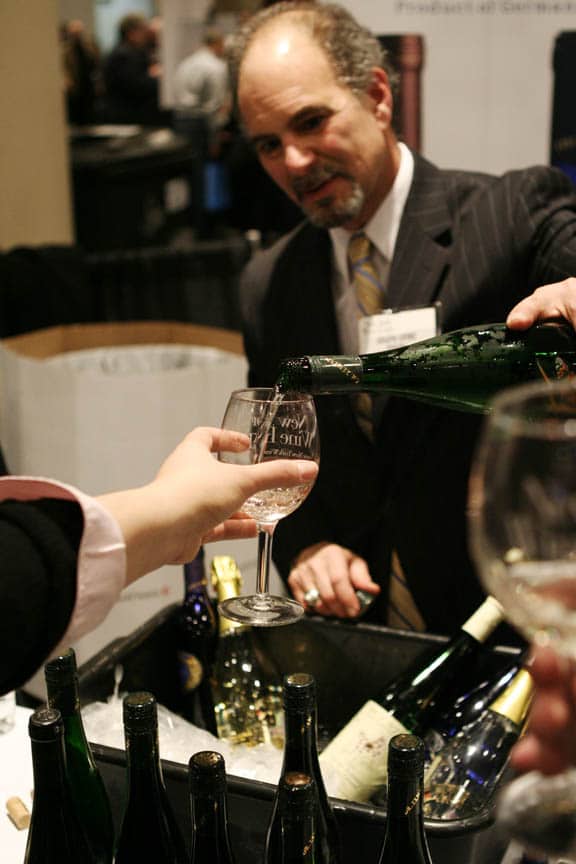 There is no other art in the world that speaks to the senses so intensely as a glass of wine.  Especially to those favored with an opulent and distinct sensibility. To the doubters I say, keep your paintings, they have only the sent of dust and disappointment. Put away your books, the words in them are as dead as the trees they are printed on.  Turn off that music, it may seduce the ears and heart, but it has no taste. For with but one fine bottle of wine, I am entertained in all aspects.
From vines twisting and turning, wrapping around trellises, elegant green fans absorbing the energy of stars to feed, nourish and give birth to its offspring. The life of a grape! How exquisite it must be, to have the privilege to evolve to such great heights. What an honor it must be to fully become nectar.  Each tiny fruit, like the son of god, born to die so violently, and resurrect into the immortal, heaven on earth, a bottle of wine!
All this being said, you can see why it was imperative that I attend the 2nd Annual New York Wine Expo last Friday at the Javitz Center.
Kevin Zraly, author of "Windows on the World Complete Wine Course" is giving his One-Hour Wine Expert Seminar in the back, far beyond the gauntlets of wine stands that dominate the room. He is the teacher and founder of the Windows on the World Wine School that has graduated over 16,000 students since it's start and his book has sold over 2.5 million copies.  With military restraint and discipline, I walk past the many stands offering small tastes of freedom, refusing that which I so desperately want, and join the lecture.  In front of me, there are 6 empty glasses, but all that is about to change.
Like a conman from the wild west in 1883, peddling tonics, elixirs, and cure alls from the back of his wagon at a medicine show, Kevin is slick talking the crowd and promising they'll all be wine experts before the hour is up, and without even a shill planted among his audience, he's convincing us all.  Blue eyes intermittently catching those of everyone else watching, and catching the impatient amateurs who dare drink before his given permission and shouting from his finely trimmed red whiskers, "STOP! DO NOT DRINK!"  Satan's finest sommelier is being merciful and saving their senses and souls from ruin, but there is a method to his madness.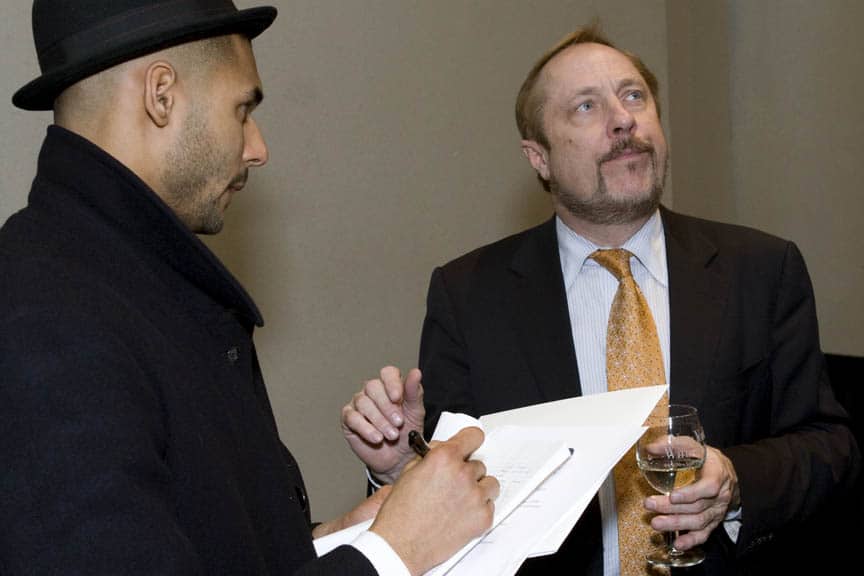 Starting with three whites, Riesling, Sauvignon Blanc, and Chardonnay Kevin is challenging the room to acknowledge the differences of consistency and color with simple comparisons to mundane fluids such as milk.  Riesling is like skim, Sauvignon Blanc like whole milk, and Chardonnay being heavy cream.  He challenges the lot and offers a prize to whoever can name the four tastes.  I immediately jump for it and find myself stuck after three.  Sweet, salty, bitter, and…Kevin moves closer.
"Ba-ba-ba-…"
"BITTER!"
Okay, so he helped me.  I still couldn't wait to get my prize.
He continues by dropping idiot savant nuggets such as smelling the cork means absolutely nothing, Merlot will make fish taste metallic, and that scientists have detected over 10,000 smells, yet we humans possess only four tastes, therefore 95% of wine tasting is all about smell.  Being such an aficionado of sniffing anything that should come way, this is music to my ears.
There is a Sauvignon Blanc from New Zealand directly under my nose, I am being ordered to smell it and discuss opinions with those to my left and right. What is that?…it smells like…it smells like…
"HOW MANY SMELL TOMATOES FROM A GARDEN?" asks Kevin.   The audience agrees. Zraly continues, "It's a typical scent from a New Zealand Sauvignon Blanc.
I did not smell it at first and now it is all that I can smell.
What else?  In these three wines, you can move forward but not back; the tastes will change considerably.  Chardonnay is darker than the rest because it is older and fermented or aged in oak; whites gain color in age, reds lose it.
To the right we have three reds, Pinot Noir, Merlot, Malbec and we've already learned two rules; if you can see through a red, it's ready to drink and the lighter the color, the higher the acidity.  Like the whites before these, they are positioned from simple to complex (skim to heavy cream) and we're about to become Sixty Second Wine Experts within the One Hour Wine Expert seminar.  It goes like this, you take a sip of wine, let it coat the tongue and mouth really well, and if you're going to be doing a lot of this, spit it back out. Otherwise, you know what to do next.  Once finished, concentrate on everything that is happening on your palate.
0 – 15 seconds: You first get the sugar and the sweetness of the wine.  Acidity is at it's highest. Notice the beginnings of some of the fruit flavors.
15 – 30 seconds: The sensations of fruit increase and by 30 seconds you should be able tell if the wine is worth it's price by the balance of sweetness and acidity.  For white wines, fruit, acid and maybe sweetness are the components to look for. For reds, look for fruit, acid, alcohol, and tannins.  (What are tannins? Oh come on, everybody knows what tannins are.)  At the end, acknowledge the body as light, medium or heavy to decide what food pairs well with the wine.
30 – 45 seconds: By now, you can assert whether or not you like the wine.  Lighter wines such as Rieslings will usually show their best at this point.  For quality reds and whites, this is where the acidity should be in balance with the fruit.
45 – 60 seconds: This is called the "length", and describes how long the components, balance, and flavors continue in the mouth.  In big full body wines, Cabernets, Barolos, Malbecs etc, concentrate on the tannins.  If the fruit, tannin, and acid are all in balance at sixty seconds, the wine is ready to drink. If the tannins overpower the fruit then you might want to store it away for a bit.
Toasts all around, drink enjoy, and decide, which is your favorite?  The room is equally divided proving that it's all a matter of personal taste.  Friends and fans surround Mr. Zraly and I move in to ask a few questions. 

SCV: What would you say it is about wine that makes it such a status symbol?  What makes great wine such an indicator of wealth?
KZ: No, it's no longer such.  Years ago perhaps, there was a wine snobbery, there were wine auctions selling vintages at astronomical prices but remember it's only 1% of wines that will actually age.  The average price of wine is actually $3.99 a bottle.  Before you would have elitists because you couldn't make a particular wine unless it was made in that particular region so it was costly to bring in such wines unlike beer that could be made anywhere. Read a 'History Of the World in Six Glasses' by Tom Standage.  It's a great book that delves into the history and evolution of not just wine but tea, beer, and spirits.
SCV: I have friends in Italy and Patagonia, Noemi Marone-Cinzano ( http://www.bodeganoemia.com/ ), Hans Vinding and Piero Incisa who are producing fantastic wines.  Can I get your opinion on what they're doing?
KZ: I've tried them all, are they making great wine, yes.  But the quantities are so limited that it's not worth mentioning.
SCV: It's not worth mentioning because of the complexity or price?
KZ: It's because of the availability.  My Windows on the World Complete Wine Course is the number one selling book because it is simple. The wines you are talking about are esoteric and not accessible to everyone.  They're on a much higher level.  I'll soon be releasing a book that deals with that class of wines.  A wine enthusiast in middle-America like Kansas doesn't have access to those wines. My job is to find a $10 dollar bottle of wine that tastes like it's $20 and they can be found everywhere, even in Long Island.
A bystander concurs and suggests New Jersey.
KZ: See? That's why I'm not talking to him.
SCV: Then in respects to affordability, there are many South African wines that I have had and not been impressed are there any you can recommend?
We begin to take a walk to the chinese beer stand. Kevin needs to catch a train.
KZ: Then you have not had the right ones, there are fantastic wines coming from South Africa right now in particular Stellenbosch where you have De Toren and De Trafford, Ken Forrester, Neil Ellis.  Paarl also has some amazing producers like Veenwouden and Glen Carlou.  In Swartland you have Sadic Family and in Constantia there is Klein Constantia, Steenberg.  In Cape Town there is Paul Cluver.  They're all doing making amazing wines.
SCV: You mentioned that also coach basketball during the seminar, how's that going?
KZ: I coach 6th grade girls at CYO and we're undefeated for two years winning 24 games in a row.  We're going to states this year.  It may seem like wine is my entire life but it isn't.  I'm not overly into it.  If I was I wouldn't be so personable.
SCV: Before you run off, one last question.  Where's my prize?
KZ: I just bought you a beer.
SCV: Tricky…
KZ: I'll tell you what, email me your address and I'll send you an autographed copy of my book.
Kevin Zraly is removing all of the mystery from wine drinking so anyone can understand.  But is it a good thing?  For a romantic idealist as myself not so much, but it can't be denied his power as a teacher.  I didn't want the seminar to end, and I could have spent the whole evening in his company charismatic as he is. It takes a devil like Kevin to serve up the blood of Christ with so much zeal and anyone interested in learning more about wine should make anything he is doing their first stop http://www.windowswineschool.com/ .
My favorites from his One-Hour Wine Expert where the Pinot Noir and Merlot, both from California and despite Kevin's recommendation of sticking with what you like best while at the expo, I focus primarily on the fuller body wines.  It's what I actually prefer but the Malbec that was offered needed more time.  There were two that blew my mind, from the Neuquén region within Patagonia was Bodega del Fin del Mundo's Special Blend 2006 (http://www.bodegadelfindelmundo.com/), a mix of Cabernet Sauvignon, Malbec, Merlot with a deep red colour with juicy plums, raspberries, tobacco and chocolate aromas.  And from Madrid, Bodegas Montalvo Wilmots's (http://montalvowilmot.com/) signature wine, Cabernet de Familia, is unavailable in the states, but makes a good excuse for a trip to Spain.
Scallywag's star photographer Mark Reay posed the open ended question to Zraly and company:  "What did the sommelier say to Jesus when he turned the water into wine?"  My answer, "Enticing bouquet, excellent balance, light body, I'd say you nailed it."
But I'm curious reader, what is yours?