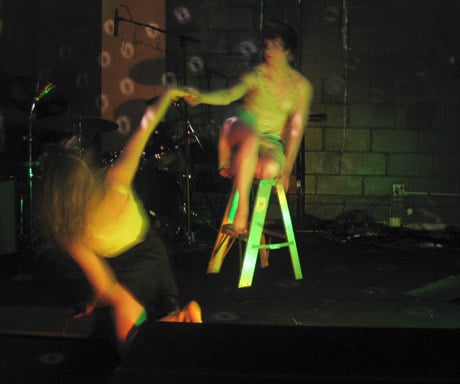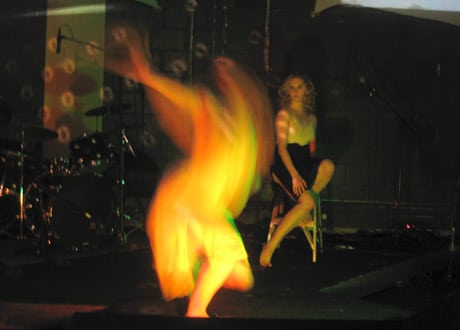 The Glasslands Gallery has all the expected hallmarks of a Williamsburg absurdist theatre: bikes, stuffed animal heads, vintage appliances, undulating, gender-less masses and assorted ironic accoutrement. My drink tickets were ripped up Uno cards, reminiscent of a by-gone era one year and 3 months ago when home-entertainment chic ruled and board games competed with Antony and the Johnsons trivia as conversation starters. The stage is minimal and unloved. The railings unsafe and the best decorations are renegade graffiti and art fag stickers (greetings to CAHBASM). An inauspicious beginning to a high-falutin' "art party." Pass me a beer, barkeep, its gonna be one of those nights.
Yet, what a relief it is to write about an event in Williamsburg and be spared the glad-handling frivolities of finding unique terminology to describe the "scene," so as to shroud the worthlessness of the talent-less hacks with a veil of deceptive in-crowding. Instead, I had the great fortune to be witness to one of the most talent-laden rosters of experimental arts performances since directions became precedents to neighborhood names. The ambitious schedule of diverse acts, united only by their mastery of their particular craft, created an up-tempo, inventive space where each performer played the role of devoted fan of the next. You could almost hear them stealing riffs, promising to work together in the future and mentally 'fellating' one another.
The short sets and minimal setting created an urgent, needy immediacy to the night, editing the potential excesses of some of the more cerebral acts and forcing a primal, aggressive, almost attacking joyousness upon the crowd. For example, Frank Gratkowski's experimental jazz was like Sun-Ra on crack, off-again, and then re-introduced to a stronger derivative. He bleated, pawed and rape-whistled at the melody, turning his own breathing and inhales into syncopation, finding purpose in whale-mating noises, 10 minute long high c notes and kissing effects.
Alison Clancy owned her surname by casting a mysterious fog upon quasi-traditional love ballads. Her solo accompanist had soaring Meatloaf-ian riffs and I mean that, believe it or not, in a good way. Drew and the Medicinal Pen turned keys and beer bottles into instruments. It was low-brow experimentation, but it was honest.
Lorna Montral pandered to the crowd which grew as the night moved away from the experimental and into the more established acts. Her sexy, between-set striptease, did not distract from the usual chatty-whore banter about abortion, abusive fathers, more abusive predatory lending agencies and even more abusive clichés. The growing, incestual crowd finished her sentences. The ironic, hipsters were mounting a counter-offensive to the talent. The obvious setting was winning.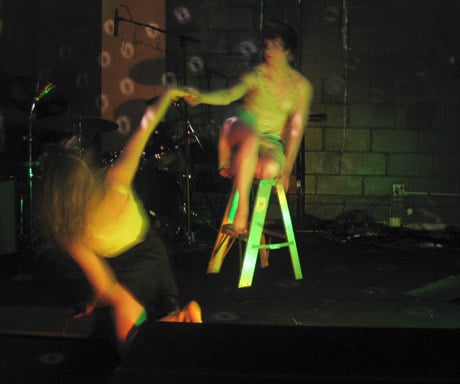 The, as Lorna pointed out, "tight, grey, jean-wearing" crowd was becoming quite self-conscious of their ecstasy and was in need of cathartic release. Future in Plastics, a band eerily reminiscent of a Hitler Youth rally and led by Amy Winehouse and Doris Day's love-child were a throw-back to Life of Agony shows at L'amours in Brooklyn. Long, unwashed hair flailed wildly in a frenzied pseudo-mosh that kept shy of any, actual physical contact. Mating season had begun. The "merch table" opened. The threat of a "dance party" was made. There was no turning back the tide.
Experimentation had ended. I left before I could be disappointed.