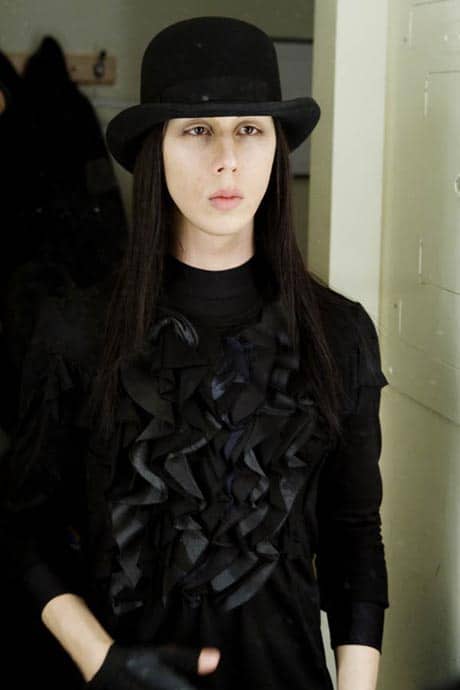 Coming to watch Atarah Valentine sing is like coming to watch theater. A Chekhov production with pathos, unrequited love, whirling vignettes, the wailing of a cello, synthesized drum beats and the angelic voice that crushes you after he takes you to the brink.
On Monday night Scallywag and crew dropped by Joe's pub to pay homage to the unique talent and voice of Atarah Valentine. Even before the show started there was commotion, his fan base and the terse anticipation of something bold that was about to unfold.
As the androgynous looking Atarah finally took to the stage, dressed in his own spandex pseudo Goth outfit, his signature bowler hat and the long dark hair cascading past his back you watched as he swooned along the synthesizer and the sweeping cello, his voice erupting in wonderful ranges, pulling you as the lyrics reached crescendo like apex and then gliding as the electric beat hastened.
As you listened you became aware that every word coming out of Mr. Valentine was every word he had felt and lived through:
"I've given you my best is that all you get out of me," or "I was lost for a while now I 've seen how much I've grown."

At heart Mr.Valentine is a hopeless romantic, if you listen to the lyrics you know this man has had his heart broken over and over (who hasn't ?) but lives to tell it. As his lyrics wail and the melodrama intensifies you realize he's in the process of breaking your heart too.
Catching up with Mr.Valentine after his performance I sat down with him to posit some questions.
SCV: Would you describe yourself as a romantic?
AV: The worst kind.
SCV: You write all your lyrics?
AV: Yes, they're about things that I've lived through and had to come to terms with.