Wednesday night's endorsement of talent, persona, high cheek bones and the visage of brilliant rainbow serpents had the effect of holding all those there tantalized, beguiled and exceptionally giddy. In honor to the exceptionally talented James Russell whose new work documents the reconciliation of past woes and the heralding of new directives his sensibility and faith in all things ephemeral, long limbed, and the ever clicking flashbulb.

It's a Wednesday night and the cameras have been worked in many directions, from a distance it looks like a mirage of floating candles, but up close it's a brandishing of uber repose, jostling paparazzi, well heeled clientele and the big smile called Russell James that hovers from his lips and the soul he has breathed into his newest collection.
Best known for his work with Victoria Secret, the lingerie apparel maker, his thoughtful, sensual and decidedly erotic images have held the world over hostage for a while now. Brimming with more talent, Mr.Russell took the initiative of giving merit to the cause of a beleaguered group called the aborigines of his native (and this writer's too…) Australia. With honoree's Donna Karan and Alan Cummings this fine chap cast a wonderful spell on a collective that involved soulful integration of his photo genius and the melody of the aborigine collage.
Using his Victoria Secret's muses he took to the Australian wilderness and set out to document the surreal dream like, adding his particular genius, directive, and intent. Super imposing images of vast burial lands, jutting abatements and deep purple and red skylines on fire, his muses can be seen bleeding into the 'mother' earth land, lassoes of long limbs and cheek bones ensconced by Aboriginal motif and symbols….never mind the cranes and ladders you never see in the back ground.
As the cameras rocked under this particular NY skyline a thousand miles away, and the reveling of an uber collective that included every major super model gracing NY covers and billboards and Mr. James's Australiana one was treated to a wonderful spectacle of form, beauty and grace both in front and behind the camera.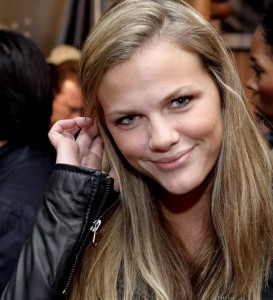 With pommegrand martinis, endless supply of roving sushi, élan and a kindred crowd all too happy to be there, Mr. Russell's opening was a considerable success. With his muses flocking to his side, and us by extension to their side it was improbable to imagine that this fine lad from Australia, an ambassador of some of it's causes was also in hindsight orchestrating a wonderful shoot that evening….orchestrating it, but not even (this time) having to bother put a single finger on a trigger.
Not bad from a lad who years back growing up in the rural part of Western Australia couldn't have imagined that his penchant for shape, light, and the fraternal would one day bring him to the attention of a star struck modern audience called New York.