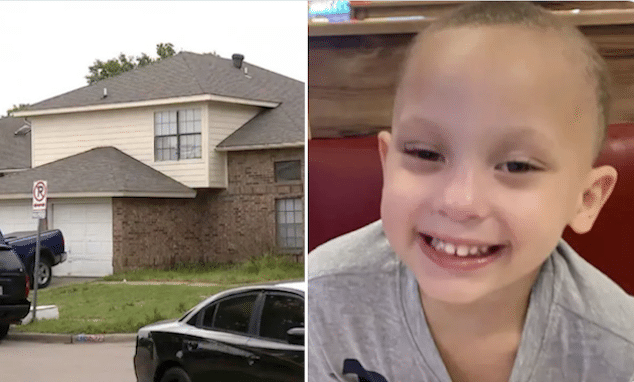 Rio Carrington, Arlington, Texas toddler boy accidentally shoots self dead after finding gun in teen brother's room. No charges to date as cops investigate. 
And yet again. An Arlington, Texas toddler is dead after police say he accidentally shot himself early Tuesday morning.
Arlington police say that the boy, Rio Carrington who was about to turn 3 in a couple of weeks, found a gun in his teenage brother's room and accidentally fired it, shooting himself in the face.
Cops were called to the Tarrant County residence just after midnight, Tuesday morning.
'When officers arrived on scene, they located the 2-year-old, who had an apparent gunshot wound to the face. Life-saving measures were performed. The child was transported to a local hospital where he was unfortunately pronounced deceased,' said Arlington PD Sgt. Courtney White.
To date no criminal charges have been filed, with police continuing to investigate according to FOX4.
'Overall bad situation' 
'It's always a sad and unfortunate situation when a child is injured in any kind of way, so arriving on scene and seeing a child with a gunshot wound to the face is disheartening,' Sgt. White reiterated. 'It's mentally draining, emotionally draining, and just an overall a bad situation.'
The episode left neighbors frazzled and in disbelief.
'My mother heard the sirens when they came at like 12:30 or 1 a.m.,' said neighbor Davion McConnell.
When McConnell left for work hours later, he says Arlington police still had his street blocked off. 
'Maybe like 10 cop cars or whatever,' he said.
Everyone who was inside the home at the time was questioned by police.
'It appears it was an adult and several children inside the home in different areas of the home,' said White.
Investigators seek to trace how weapon entered home
The child's mother and the teenage sibling whose room was where the toddler found the gun were among those questioned.
'Currently our detectives are trying to trace exactly where the weapon came from and how it entered into the home,' White said.
Police have not revealed the type or caliber of the weapon. It is also unclear if the child's mother knew the gun was in the home, and whether it was obtained legally. Police declined to also say if there were other weapons in the home. 
Carrington was at least the sixth child to die of a gunshot wound in Tarrant County this year, according to CBS News.
The Cook Children's Medical Center in Fort Worth treated 225 juvenile patients for gunshot wounds from 2018 to 2022, the network said. Twenty-two children also died.
Police are now pleading with gun owners to secure their weapons.
Preventable tragedy as police plead with owners to secure firearms 
'Just an overall bad situation, for lack of a better term. That is why we enforce and try to tell the public please lock your handguns up, they can get into the wrong hands, or they can get into a child's hands,' White said.
Adding, 'This is easily preventable. We try to tell the public to be good, responsible firearm owners, meaning if your weapon is not in use or not on the firing range, you need to lock it up.' 
Arlington police are not releasing the age of the teenager, only saying he's a minor. 
Detectives are now tracing where the gun came from to know who it belonged to and how it got into the house.
Reiterated White, 'A child is dead and a mother is going to have to basically bury her baby because the child located a firearm and harmed himself.'