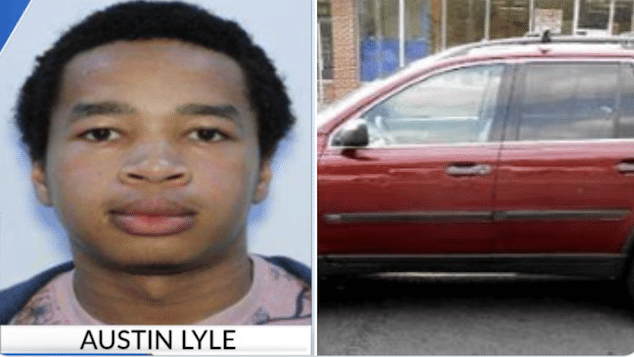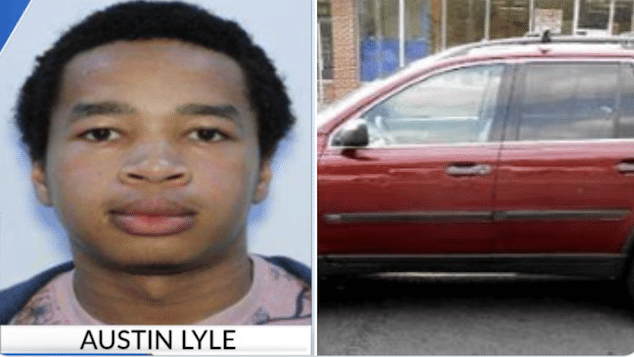 Denver East High School shooting: Austin Lyle African American student mandated to be patted down each day shoots two adult staffers. Shooting happens month after another nearby school shooting. Suspect remains at large. 
##Update: Austin Lyle, the student accused of gunning down two staffers at an East Denver H.S was found dead near his car around 9 p.m, Wednesday night. The 17 year old's red Volvo XC90 was found in a remote mountain area roughly 50 miles southwest of Denver.
Original story: A Denver high school student who was under a 'certain agreement to be patted down each day' allegedly shot and wounded two school administrators at East High School, Colorado authorities stated. The student was searched daily due to ' behavioral issues.' 
The suspect, since identified as 17 year old African American juvenile, Austin Lyle, was armed with a handgun, fled the school after the Wednesday morning shooting. Denver police said the search for the teen boy was ongoing. The gun has not been recovered, police said.
Both faculty members were transported to hospital following the shooting. One of the victims was released several hours later, while a second administrator remained in serious condition.
The suspected shooter was required to be searched at the beginning of each school day, officials said. He allegedly shot the school administrators as they patted him down Wednesday morning in the school's office area, which officials said is away from other students and staff.
The suspect's daily searches were part of a 'safety plan' that was a result of 'previous behavior,' officials said, though they did not elaborate on the previous behavior.
JUST IN @DenverPolice release suspect's name and photo in this mornnig's shooting inside Denver's East High School that left two faculty members injured

Austin Lyle, 17. pic.twitter.com/h5aKPl5Tfs

— Chris Vanderveen (@chrisvanderveen) March 22, 2023
2 adults injured in #shooting at #Denver East High School. Students under controlled release. Suspect still at large. #guns #2A #GunControlNow pic.twitter.com/HRUiE88AZF

— Saun Krystian  (@SaunKrystian) March 22, 2023
Student Council Member Tyrone addresses school #shooting at #Denver East High School. #guns #2A #GunControlNow pic.twitter.com/MQDxN9l6r7

— Fierce  (@FierceIndepend1) March 22, 2023
Suspect remained at large
Police described the 17 year old suspect as an African American teenager, circa 5ft'5 tall, weighing 150 pounds and wearing a green hoodie. The teen was believed to be associated with a 2005 Red Volvo XC90 with Colorado license plate BSCW10.
Police warned the public to not approach him, calling him armed and dangerous, yahoo reported. 
East High School was placed on lockdown in the wake of the shooting. Denver Public Schools later said it received clearance to start releasing students.
The incident follows East High School students last month calling for action on school safety and gun violence after a 16-year-old student was fatally shot near the school, according to KMGH.
The superintendent said Wednesday that the school will be closed the rest of this week, and that the building will now have two armed officers present through the end of the school year. 
Denver Mayor Michael Hancock in a statement said removing school resource officers was a 'mistake' and said they should be quickly returned.
'We all have to step up as a community and be a part of the solution,' he said.
Hancock also called on Congress to pass 'common sense' gun legislation.
'Parents are angry and frustrated, and they have a right to be,' he said. 'Easy access to guns must be addressed in our country — Denver cannot do this alone.'
This shooting comes two years to the day after a mass shooting at a King Soopers grocery store in Boulder, Colorado, that claimed 10 lives.