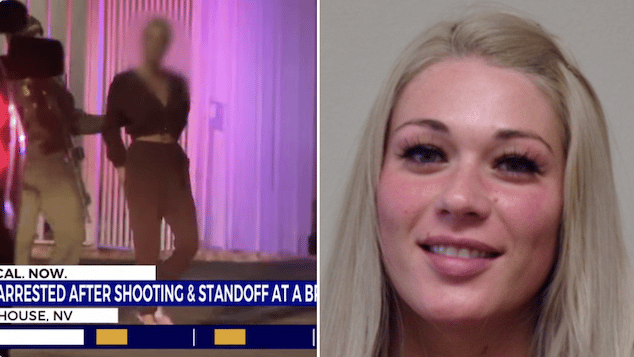 Savannah Henderson,

Moonlite BunnyRanch worker aka

Tiara Tae Only Fans model

arrested after shooting & hours long standoff at Nevada brothel with fellow sex worker. Gets on Twitter imploring fans to subscribe to her OnlyFans account after posting $86K bail. 
Will you be subscribing? A dispute between two sex workers at a Nevada brothel involving gunshots and an armed standoff led to one employee, who previously posed for Hustler Magazine being arrested and booked on a series of charges.
Savannah Henderson, 28, of Dayton, Nevada, also known as 'Tiara Tae,' upon her arrest was charged with four counts of possession of a firearm by a convicted felon, one count each of possession of a controlled substance, discharging a firearm where others may be endangered and obstructing/resisting a peace officer according to a news release from Lyon County Sheriff's Office.
Someone at the Moonlite BunnyRanch, a legal brothel near Carson City, called 911 at 9:37 p.m. Monday, Feb. 20, to report a dispute between two employees, the release said.
During the 911 call, the caller reported hearing gunshots. Deputies heard several more gunshots when they arrived, leading to Henderson retreating to a room inside the brothel, the release said. 
After hours of negotiation in the standoff, Henderson surrendered at 12:33 a.m. Tuesday, Feb. 21, sheriff's deputies said. Law enforcement officers and firefighters form several jurisdictions responded to assist with the standoff. No one was injured. The shots were reportedly sparked by a dispute between employees, the sheriff said.
The Lyon County Sheriff's Office say they have arrested 28-year-old Dayton resident Savannah Henderson after a standoff at the Moonlite Bunny Ranch. @KOLO8 pic.twitter.com/LghpWBZL4D

— Ashley Grams (@AshleyGramsNews) February 22, 2023
'Don't forget to subscribe to my OnlyFans page' 
Our collective hero was released Tuesday after posting $86,140 in bail.
Later that night, Henderson took to Twitter asking users to subscribe to her OnlyFans account to hear her side of the story with all the 'juicy details.'
Do you suppose? 
During her entreaty with fans, the self-described 'pleasure and orgasm specialist' claimed cops arresting the wrong person.
'Spoiler surprise: falsely accused. Lawyer check. Charges dropped,' Henderson tweeted Tuesday shortly after 10 p.m. local time. 'y'all thought you got me lol stay tuned for my OF link with juicy details and info of court I'm free to walk and roam! Hope everyone is having a great week. I'm feeling relief.'
A woman who identified herself as a 'retired Bunny Ranch employee' called Henderson a 'crazy bully barbie b–ch' and a 'total f–king nutcase.'
'[She] bullied other ladies for years. Attacked other,' Alexa Haze tweeted. 'I witnessed when i [sic] worked there.'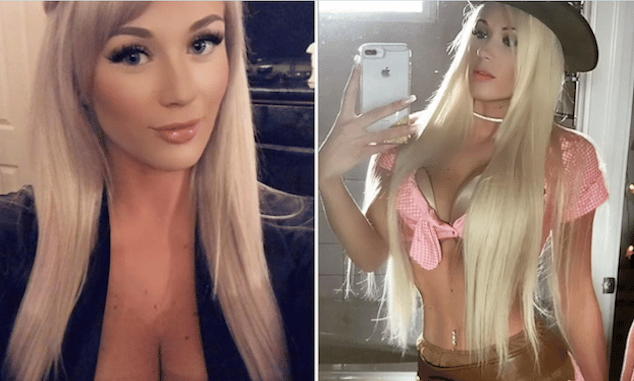 'Juicy details' 
'You wish B–ch Lmao you're gonna eat your words after you see this court info,' Henderson tweeted in response, while once again imploring her fans to subscribe to her page.
'Make sure and subscribe to my OF for the juicy details!' Henderson chimed.
Lyon officials are asking anyone with information to contact the Sheriff's Office Investigations Division at 775-577-5206 or detetive@lyon-county.org.
Callers may also contact Secret Witness at 775-322-4900
Of note, prostitution is legal in some parts of Nevada.