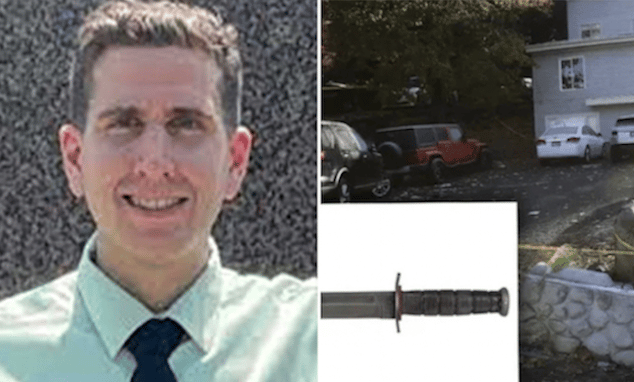 Is Bryan Kohberger a serial killer? Sheath left behind at Idaho murder scene may have been a calling card according to crime experts on Dr. Phil show, who also suggested the PhD crime student having previously killed before. 
And the conspiracy theories continue…The University of Idaho quadruple murder suspect accused of 'brutally' stabbing to death four college students may have left a knife sheath at the crime scene as part of a 'calling card' to show he was at the scene of the crime scene and that this wasn't necessarily his first murder. 
In a Dr. Phil special on Friday, crime experts speculated that Bryan Kohberger, 28, purposefully left an empty knife sheath in the room where students Kaylee Goncalves and Madison Mogen were murdered on Nov. 13.
The lifelong best friends were stabbed to death in the early morning of Nov. 13 along with their roommate Xana Kernodle and her boyfriend Ethan Chapin.
Former FBI special agent Jonathan Gilliam said he thinks investigators will find the knife, because similar to Kohberger's car, it was 'part of his operational tools,' Fox News reported.
Trial attorney Mercedes Colwin believes investigators will eventually find the murder weapon and suggested the sheath may have been left at the crime scene intentionally.
Did Idaho murder suspect kill before? 
'It could be, I mean it's almost as if — and we've seen this with other killers, it's their calling card, 'I got this,'' she said during the special.
'Especially if you think you're smarter than everybody else, and he certainly — he had gloves, at least that's what's presumed, that he had gloves. He tried to cover himself, did something to dispose of the clothing, if he in fact is the killer, then of course, this is something that could have just been a calling card and left it there.' 
The musings dovetail with another recent report in which UK crime professor David Wilson, at Birmingham City University told ITV's 'This Morning,' show that Kohberger was 'too smart' to accidentally leave the knife sheath behind at the scene.
Instead the criminology professor alluded to Kohberger, who was completing his doctorate in crime at nearby Washington State University, leaving the sheath behind in a 'double jeopardy' tactic to avoid being tried twice should he be found innocent as his defense team would seek to argue that the DNA found on the sheath could have been transferred from his person by another and didn't conclusively point to him having been at the murder scene.
Addressing the brutality of the murders, the group of experts appearing on Dr. Phil went on to discuss the possibility that the quadruple murders wasn't Kohberger's first murder, which would potentially make the PhD criminal justice student a serial killer.
Former FBI agent Gilliam said he felt the murder suspect may have killed before, and in a similar fashion.
'I think he's killed before most likely,' Gilliam said. 'Not four people, but I think he's probably stalked and potentially killed females before.'
Was Bryan Kohberger motivated by incel complex? Sexless men seeking revenge. https://t.co/8VQCxWB2XT #moscowhomicide #idahohomicide #BryanKohberger #IdahoFour #Idaho4 #Moscow4 #idahohomicides #incel

— Scallywagandvagabond (@ScallywagNYC) January 16, 2023
Kohberger trying to get away with something wrong
Added trial attorney Colwin: 'If he's the killer, this viciousness, the brutality, and the butchering of these four individuals, I can't imagine this is the first time, if he is indeed the killer.'
Forensics expert Joseph Scott added that while he thought it could be Kohberger's first murder, he believes it certainly was not the first time Kohberger tried to get away with something wrong.
When asked if he thought it was Kohberger's first murder, he responded, 'Murder? Possibly. Bad act? No.'
Kohberger following his arrest late December has been charged with four counts of first-degree murder and a count of felony burglary in the gruesome quadruple homicide.
His arrest on Dec. 30 came following a seven-week nationwide manhunt that captivated America. A motive for the crimes or link between Kohberger and the victims has not yet been established – while the view that he may have been compelled by an incel complex in seeking revenge for past failures in establishing intimacy with women. 
A preliminary status hearing for Kohberger has been set for June 26.