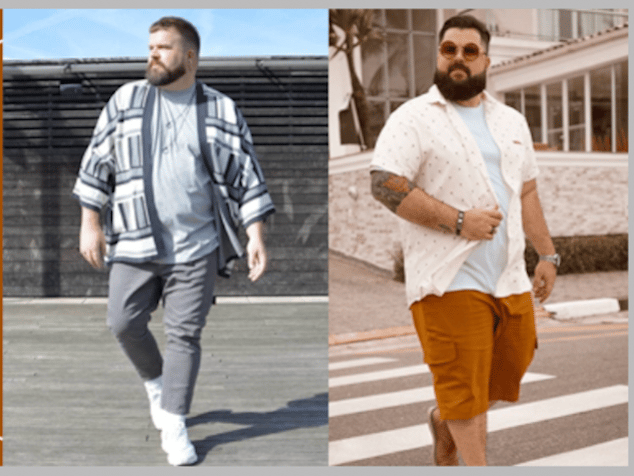 Trending & Affordable Clothing Styles for Plus-Size Men that are actually stylish and comfortable: from plus size mens suits, sweaters, hoodies, joggers and more. 
In addition to having one of the trendiest styles in all the standard size ranges, certain stores encompass a wide spectrum of plus-sizes as well. Being in trend or style is what everyone loves to do and if you are looking for similar stuff then you must visit Nordstrom, boohooMAN, DXL, ASOS, Target, etc. 
The style includes comfy, casual, athleisure, formal, streetstyle, and more. Find your perfect style in your desired fit! The size ranges can go up to 10XL(Johnny Bigg). 
Plus & Tall Men | Stay In Style & Set A Trend! 
Get some of your favorite pieces at your perfect size and at a whopping 50% off on your entire cart value. If you are looking at a bit affordable price range then boohooMAN might be a better option for your shopping and also they provide sizes up to 5XL. 
The product base prices are quite affordable where you can get a shirt for around $10 and bottom wear starting at $20. What else is required to be in trend? If it's the choice of color, then that is also sorted as you can find your perfect piece in a number of colors. 
Styles For Plus & Tall | Best-selling Clothing Categories
Explore the entire line of Plus size clothing and Tall collection so as to restock your wardrobe with the best pieces. If you want to save a hefty 80% on your purchase then use the coupons to grab the discount fast. 
Plus Size Shorts
Add a nice pair of shorts to the cart, which are available in ideal length and sizes. Find your perfect pair of lightweight & breathable fabrics cut in flattering lengths from some of the top brands: Champion,Asos, boohooMAN, etc. 
Plus Size Jeans 
A nice pair of denim is the essential element of every wardrobe which can be used as a casual wear, casual-formal style, outing apparel, and all the ways you can style in. You can style it with a graphic Tee, formal shirt, hoodie, or baggy sweatshirt. 
Plus Size Tracksuit 
Explore and end up finding a comfy, durable and quality material tracksuit for yourself. With the evolution of clothing you might see that tracksuits are tapered, tailored and trimmed in a different way. Also for your comfort, the tracksuits are provided with elevated cuts, quality fabrics, trendy designs, and are suitable to make your look more stylish. 
Plus Size Hoodies & Sweatshirts 
Be winter ready with the exclusive winter collection. You can find comfy and perfect fits for layering yourself with oversized hoodies and sweatshirts. It won't be difficult to find hoodies and sweatshirts in your size with numerous color options. 
Plus Size T-shirts & Tanks 
Bored of your regular formals? Add a casual touch with graphic tees, logo t-shirts, and tanks. Pair these with your pants, chinos, joggers, trousers, or jeans for different styles. 
Plus Size Shirts 
Achieve the smart-casual look with a nice piece of shirt for your office wear or after-work outings. You can pair it up with your chinos, jeans, or formal pants and then you're all ready for your workplace or meetings. 
Plus Size Trousers 
When you don't want to look casual in jeans, and joggers are a bit informal for the occasion, then a nice fit of pants would be the best option as it makes you look smarter and goes perfectly with your shirt. You can add it with loafers or sneakers according to the occasion. 
Plus Size Mens Joggers 
Jogger is the streetwear staple which is way too stylish to keep at a place. Explore the fresh designs and create your own smart-casual outfit. The joggers are designed with quality fabrics, utility pockets, pinstripes, and more. 
Plus Size Suits 
Go through the brand new collection of plus size mens suits which you can pair with your tees, formal shirt, or tank to create a great look. The suits are made of quality fabrics and are available in all sizes. 
The Big & Tall collection of BoohooMAN is an extension of its 'mainline range' that includes all styles such as longline t-shirts, jackets, formal wear, accessories, denim and tees. Changing the frustration to confidence and joy with its style and ideas, popular brands introduce a size range from L to 10XL. These designs are majorly favorable to your pocket as these are super affordable.