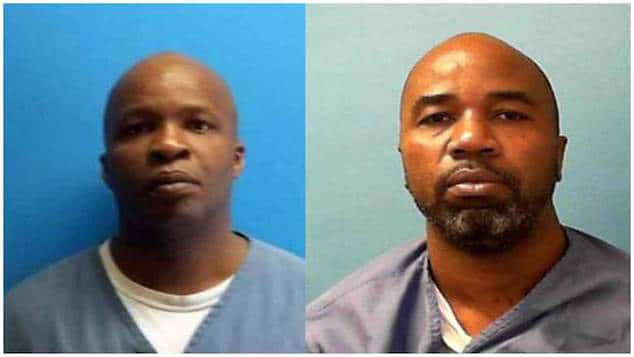 Lamar Alexander and Ronnie Jerome Hill i'd as Miramar shootout suspects: Cousins with extensive criminal histories identified as jewelry heist thief bandits that took UPS driver hostage, leading police into deadly pursuit and shooting.
Federal authorities have identified the two armed robbery suspects killed in a shootout in Miramar that culminated in the fatalities of four individuals, including the would be jewelry heist thieves. 
Lamar Alexander and Ronnie Jerome Hill, both 41 and hailing from Miami-Dade County, we're i'd as the two men involved in a bungled jewelry store holdup Thursday afternoon in Coral Gables, Florida– circa 4pm – which soon escalated out of control.
After an exchange of gunfire at Regent Jewelers, the FBI said the two suspects carjacked a UPS truck and held the driver, Frank Ordonez, hostage. From there a 23 mile police pursuit ensued, involving a convoy of no less than 20 pursuing police vehicles before snarling traffic forced the fleeing men's hands.
Stuck in traffic in South Florida's Miramar, police and the armed robbery suspects exchange a volley of gunfire along Miramar Parkway, just west of Flamingo Road.

Ordonez, the two suspects and Richard Cutshaw, a 70 year old bystander in a car, were killed.

Investigators have yet to reveal who killed whom in the shootout.
According to CBS Miami, 19 officers from five different agencies fired into the UPS truck. The number of shots fired could exceed 200 rounds.
Suspects Lamar Alexander & Ronnie Jerome Hill involved in #UPS #policechase and #policeshooting had criminal history dating back over 20 years and were last released from prison in 2017 https://t.co/5q2wnXFwWl pic.twitter.com/RpqkBSfQcK

— JRodriguez (@JRodzMIA) December 6, 2019
TENSE exchange of gunfire between police and robbery suspects in Miramar / Flamingo Road area after chase. (Vid: @wsvn) pic.twitter.com/RHDFtrzBHf

— Joel Franco (@OfficialJoelF) December 5, 2019
Did cops go overboard?
The ensuing violence and resulting fatalities have led to the killed UPS driver's family members demanding answers.
The police response to the hijacking was 'insane,' the victim's brother, Luis Ordonez told AP.
'Instead of talking to them, they just started shooting,' he continued. 'I know they [the robbery suspects] were shooting back at them, but it was easy to just cover behind police cars. They could have just covered themselves.'
BREAKING: Family confirms for me that Lamar Alexander was one of the men in the UPS truck. He was a father of 3. His brother told me, "he just made bad decisions in life and it cost him his." @WPLGLocal10 pic.twitter.com/6mQH95ari1

— Ian Margol (@IanMargolWPLG) December 6, 2019
Why didn't they turn to us? 
Interviews with the robber's family members revealed Lamar Alexander the father of three children and the bandits, who are cousins, having extensive criminal histories.
Court records cited by Miami CBS local revealed Alexander having previously beeen sentenced to probation for a 1996 robbery and 1997 burglary. Five arrests in the 2000's resulted in no convictions before he served a lengthy stretch in prison for a 2008 armed robbery conviction in southwest Florida, gaining his release in 2017.
Florida Department of Corrections records show Ronnie Hill having served time in prison twice: in the 1990s on burglary and robbery convictions and more recently for five burglary-related convictions.
Hill was also revealed to be the father of two young children, one with special needs, and working as a driver for a cabinetry company.
Naomi Hill, the aunt of both suspects, said Alexander was 'a good boy — he had changed his life around.' She said he was married with three children and working for a garbage-collection company.
Hill said family members had no idea why the two men would have committed the robbery, saying either man could have turned to her or their mother for help if needed. She wanted to apologize to the victims' families.
The FBI is investigating whether the two gunmen killed inside the UPS truck were involved in two previous robberies in South Florida.