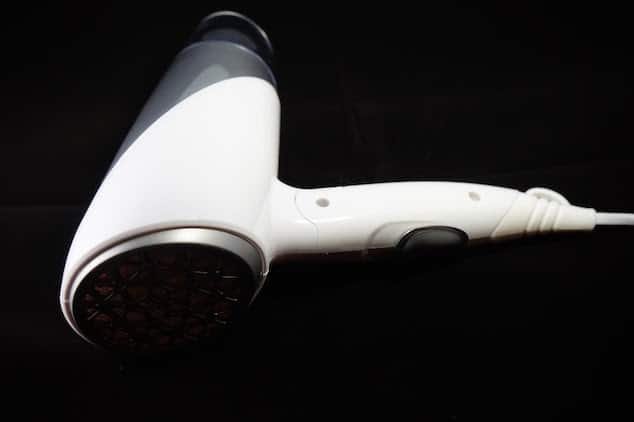 Best Travel Hair Dryers for the Perfect Blowout: Portable & compact devices for your next vacation reviewed for women on the go.
When you're on vacation, the last thing you want to do is spend time fussing over your hair. Discover the best travel hair dryer here.
Vacations should be all about fun, relaxation, and doing the minimum amount of work possible. But that doesn't mean you'll want to totally ditch your beauty routine. After all, you're going to want to look fierce in all your photos. 
Looking great while you're on vacation doesn't mean you have to figure out how to stuff a whole full-size beauty salon in your suitcase. Here's a list of portable and powerful blow dryers to help you find the best travel hair dryer for your next trip away from home.
The Best Travel Hair Dryer
You can have great hair no matter where your travels take you. Here are some of the best compact hair dryers on the market. 
1. Revlon 1875W Compact Travel Dryer
This compact hair dryer has two heat and speed settings plus a cool shot button for all your styling needs. It also has dual voltage capability, so it's great for overseas travel. 
2. Phillips 3-Speed Essential Travel Hair Dryer
This hair dryer features a folding handle and a storage hook, so it won't take up much space. Its cone design makes this hair dryer super quiet, which is great for if you're sharing a hotel room with people who like to sleep in. 
3. Conair miniPRO Tourmaline Ceramic Hair Dryer
The miniPRO offers two heat and speed settings as well as tourmaline ceramic technology for smooth, frizz-free hair. After a day of fun on the beach, a smoothing hairdryer is the perfect thing to tame your locks. Bermuda cruises help create memories like none other, so make sure your photo album is one you're happy to look back on. 
4. Dyson Supersonic Hair Dryer
This is one of the most powerful compact hair dryers on the list. Its strong airflow dries hair fast so you can spend less time in front of the mirror and more time enjoying your vacation.
5. Paul Mitchell Express Mini Dry
For salon quality at a reasonable price, you can't go wrong with this travel hairdryer. It's also super lightweight and portable. 
6. Eva NYC Mini Blow Dryer
This is a great option if you're looking for a hair dryer with a variety of styling attachments. It comes with a straight nozzle and a diffuser, plus a handy carrying case.
7. Drybar Baby Buttercup Blow Dryer
You can have a famed Drybar blowout on the go with this travel hair dryer. Not only is this hair dryer small and foldable for easy storage, but it also features ionic technology to give you shiny, frizz-free hair in a short amount of time. 
Looking Great on the Go
Whether you're lounging on the beach or backpacking across Europe, you can still have hair that looks like you just stepped out of the salon. The best travel hair dryer will have you looking fabulous without taking up a ton of space in your suitcase. 
Did you find this article helpful? Check out more from our website for more travel and lifestyle tips.