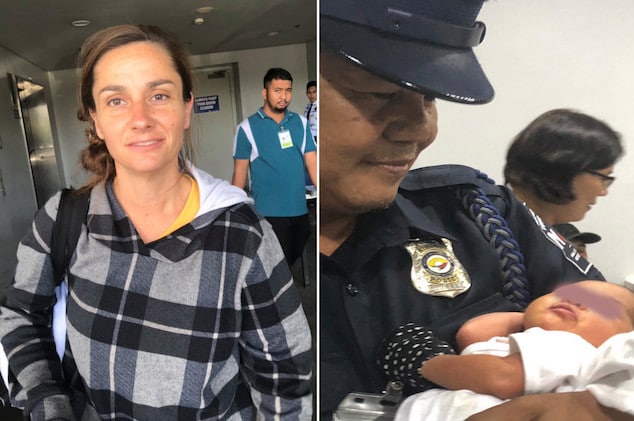 American woman, Jennifer Erin Talbot arrested trying to smuggle newborn baby out of the Philippines after hiding child in carry-on luggage while boarding flight to the US.
An American woman has been arrested trying to smuggle a newborn baby out of the Philippines after hiding the child in her carry-on luggage, officials said.
Jennifer Erin Talbot, 43, attempted on Wednesday to board a Delta flight to Detroit with the child from Ninoy Aquino International Airport in Manila, when she was preempted NBC News reported.
During the security check, the 6-day-old baby was discovered inside her carry-on bag, the outlet reported.
'[The] infant was hidden in the oversized belt bag and [she] did not declare nor present to the immigration inspector during departure formalities,' Bureau of Immigration officials told CNN Philippines.
Asked to provide documents for the 'accompanying' child, Talbot of Ohio claimed to be the newborn's aunt. The woman was found not to be in possession of documents proving the alleged relationship.
The National Bureau of Investigation said they will likely file child trafficking charges against her, NBC News reported.
'We worked in coordination with US-based airline who helped us apprehend the passenger at the boarding gate,' NBI spokesperson, Grafton Medina told the media outlet.
'She would not have a baby in a hand-carry to be x-rayed. But she hid it at check-in and when she passed immigration counters, and then at the other x-ray to the boarding gate, then she showed it. That's the time we were able to apprehend her, when she passed through the next x-ray,' Medina added.
Come Thursday the NBI in a statement revealed during questioning Jennifer Talbot presenting an affidavit, allegedly from the baby's mother, giving consent for the baby to travel to the U.S. A regard of the document revealed it not having been signed off by the mother.
The bureau said no government travel approval had been issued for the baby.
The baby is now with the Department of Social Welfare and Development.
Officials are searching for the baby's parents, who have been charged under a child protection law.
It remained unclear who the child's parents were and how Talbot came to be in possession of the child and whether there was a buyer waiting on the other side…