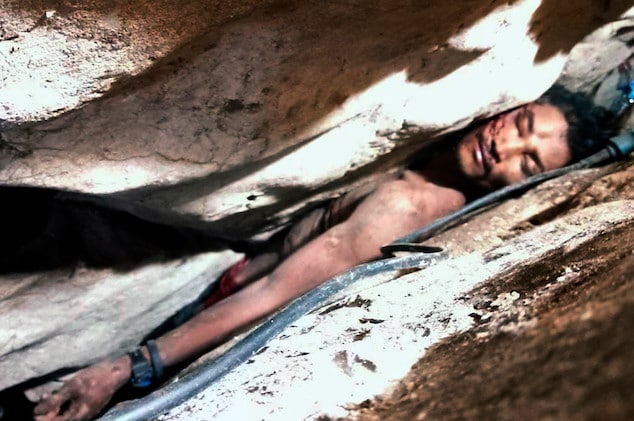 Sum Bora Cambodia man rescued after slipping and being wedged between rocks for four days while collecting bat droppings which he'd hoped to sell for fertilizer. 
A man collecting bat droppings in the Cambodian jungle has been rescued after falling in between two large rocks and being wedged there for four days before rescue teams wrested him free, authorities said.
Sum Bora, 28, fell into the small space while trying to retrieve his flashlight in the Chakry mountain jungle in the northwest section of the country, police said.
Bat droppings – guano – are collected by farmers in the country to be used as fertilizers for their crops. The droppings are sold for supplementary income by poor farmers, who sometimes try to attract bats to their property.
Bora's family began searching for him when he didn't return after three days, according to VOA Cambodia. His brother found him and called police, who sent rescuers to free him.
About 200 rescuers responded and destroyed pieces of the boulders to safely extract Bora, authorities said.
He was freed at about 6 p.m. on Wednesday and taken to a local hospital NBC25News reported.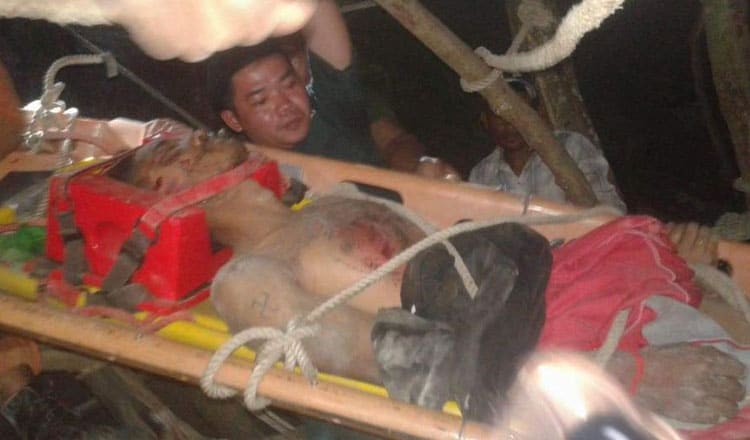 Cambodia is wracked with poverty often forcing citizens to fend on their on their devices:
Police said Sum Bora slipped Sunday while trying to retrieve his flashlight, which he had accidentally dropped in the small rocky hollow which was estimated to be 30 feet (10 meters) deep.
'We successfully rescued him,' Maj Gen Sokhon of Cambodia's unit 711 said according to Khmertimeskh. 'He is alive after being taken out and can speak but he is weak because he had no water or food for four days.'
Cambodia is one of the poorest countries in the world, with 35% of its 15.2 million people living in poverty, according to a September 2018 report by the United Nations Development Program.
Notes the World Bank: 'Poverty continues to fall in Cambodia. According to official estimates, the poverty rate in 2014 was 13.5% compared to 47.8% in 2007. About 90% of the poor live in the countryside. While Cambodia has achieved the Millennium Development Goal (MDG) of halving poverty in 2009, the vast majority of families who escaped poverty did so by a small margin. Around 4.5 million people remain near-poor, vulnerable to falling back into poverty when exposed to economic and other external shocks.'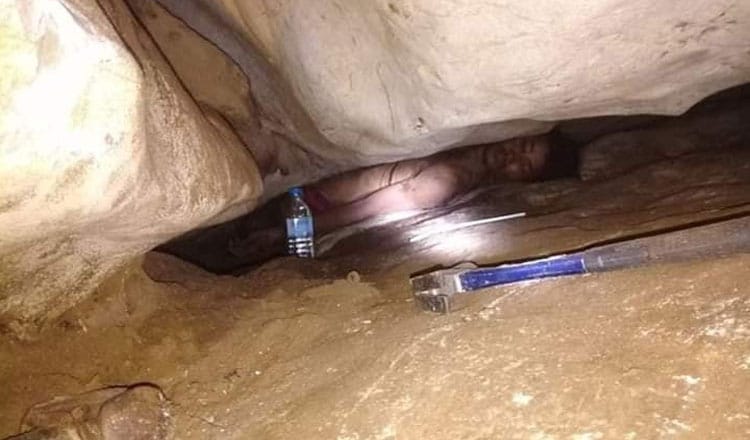 Rescued: 200 rescue workers have extricated a man trapped between mountain rocks in Cambodia.

He was stuck for almost 4 days after trying to collect bat droppings. More @business https://t.co/kUuGNiElJS pic.twitter.com/gTt19JBqdR

— Bloomberg TicToc (@tictoc) August 8, 2019