Skull bracelets jewelry for men. How a symbol of power and mortality continues to inspire and morph into a must have fashion collection item. A look at what's popular this summer.
Skull jewelry has an amazing history. It's a symbol of power since Ancient Greece, and it remained the charm of strong people. What is interesting is that Queen Victoria herself used it to create jewelry with a meaning.
In the 15th-century people began wearing things that reminded them of their mortality. "Memento mori", which means "remember you must die" is the idea that began this controversial trend. Later, Queen Victoria wanted to commemorate the memory of the loved ones. As time passed by, the skull motif became one of the coolest fashion trends– made popular once again in the 1960's when rock royalty started donning them, including the Rolling Stones' Keith Richards who began wearing skull jewelry motifs on every finger.
Nowadays, we can find them everywhere. From skull bracelets to backpacks and evening clutches, clothing and accessories brands outnumbered themselves. 
In another train of thoughts, here are three skull bracelets that will elevate your summer outfits!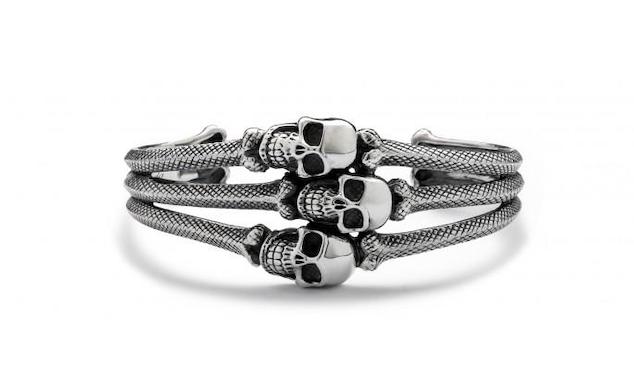 1. Men's Sterling Silver Statement Skull Bangle Bracelet
If you prefer massive jewelry, then this bracelet is dedicated to you. It represents three skulls made of high-quality silver, and every single detail is amazingly done.
This joining is very interesting. On the one hand, skull bracelets have a commanding vibe and carry a spirit of revolution and rebellion against the system. On the other hand, silver is a metal associated with peace, patience, inner balance, and protection. It is also thought to help people get in touch with their emotions and better express their feelings. You can wear it with leather jackets and ripped jeans, or integrate it into a more elegant outfit, such as a turtleneck sweater, a long coat, fancy boots, and a Fedora hat. 
   2. Black Onyx & Lava Beaded Bracelet
You may have already concluded that this bracelet is made of Black Onyx and Lava. But what you don't know is that these two gemstones have amazing properties. They can enable introspection and help you reveal your true self. If you feel negativity around you, just wear this bracelet and it will absorb all the bad energies. It is decorated with a big silver skull and three silver skull accessories. If you love skull bracelets but also don't stick to a single style, then you should choose this design. It is very versatile thanks to the gemstones and the combination between shiny and matte.  

   3. Men's Sterling Silver Twisted Skull Bangle Bracelet
Two skulls, one word: stunning! This piece of jewelry transmits elegance and wildness at the same time. Usually, skull bracelets have a more "bad boy" vibe, but not this one. You can wear it with a black suit and a black turtleneck sweater, and also with basic T-shirts and cargo pants. It's your choice but make it good. More than this, it will help you keep the temptations, disturbances, and disagreements away. Wear it with statement rings to create a more unitary look, and never forget your sunglasses. 
You can shop these three skull bracelets at Balisarda.com. Discover the entire skull collection and all the other beaded designs made of 100% natural gemstones. They ship worldwide, and every product is delivered in exquisite boxes.