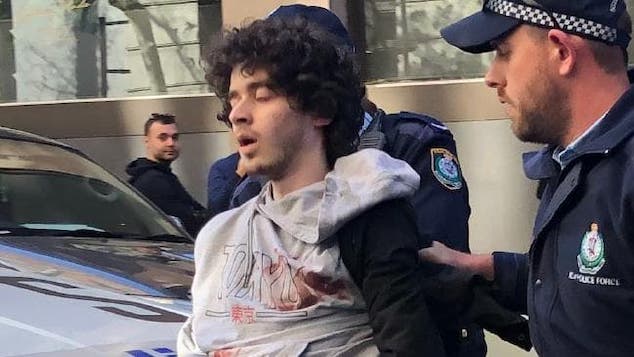 Mert Ney Sydney stabbing suspect at CBD- Wynyard district arrested after stabbing to death 21 year old woman and injuring two others. Escaped mental health care patient- but no known history of terrorist ideology despite terror files found on him. 
A 21 year old suspect arrested after allegedly going on a stabbing incident in Sydney's CBD district that left one woman dead and two others injured – is believed to have escaped from a mental health facility – days prior to the Tuesday afternoon attack.
Following Mert Ney's arrest, Australian police confirmed the man who had been heard screaming 'shoot me in the face,' along with 'Allahu Akbar' as terrified pedestrians watched on- escaping from a Marayong mental health facility where he was a patient.
Marayong is a suburb of Sydney's West district of Blacktown.
Video captured (see below) the seemingly deranged man covered in blood and brandishing a large knife being chased and eventually pinned down by witnesses. At one point during the rampage- Nert was seen jumping on the bonnet and roof of a Mercedes.
Local media outlet, 7news.com.au reported onlookers apprehending the stabbing suspect, and pinning him to the street with two chairs and a milk crate, near Wynyard Station, shortly after 2pm on Tuesday, local time.
Some psycho just went around stabbing people in Sydney. Just your regular Tuesday. pic.twitter.com/fJGlkg1lZL

— جوني (@johnnie_txt) August 13, 2019
Sydney stabbing suspect found with anti-anxiety medication on him:
It wasn't until after the sudden rampage was over that a 21 year old woman was found dead in a unit block in Clarence St – having been stabbed in the neck and throat – along with another woman – a 41 year old who incurred non life-threatening stabbing injuries.
The 21 year old's identity was not revealed- but it was indicated she was a sex worker.
Police told of the man having made 'multiple attempts' to stab other people but was 'luckily unsuccessful'.
Anxiety medication – labelled 'antinex' was found on the ground near the suspect as he was being arrested, as was a number of items with 'extremist ideologies,' according to police.
@GaryandShannon Citizens & Firies "essentially" arrested the suspect using two cafe chairs & a milk crate!
Alleged Sydney CBD stabbing attacker had 'material linked to mass crimes' https://t.co/fkAjHxKw0R

— Marianelapurr (@notmeagain) August 13, 2019
Wynyard stabbing suspect connected to terrorist organizations? 
At the time of Nay's arrest, information was reportedly found relating to mass casualties around the world, including those in North America and New Zealand.
Police during a press corps meeting said Ney not thought to be connected to any terrorist organizations.
'It appears to be a random attack,' Police Commissioner Mick Fuller said, adding that Nay had acted alone.
Addressing concern that Nay was connected to a terrorist ideology, Fuller responded, 'it is much too early to draw a conclusion on a consistent type of ideology".
Fuller said the joint counter terrorist team had assessed all the available information and were not currently classifying Tuesday's Sydney stabbing incident as a terrorist incident.
Fuller said the accused was known to police while remarking the man's history as 'unremarkable' compared to the crimes he allegedly committed.
Fuller confirmed the attacker has a history of mental illness.
It wasn't immediately clear what motivated the stabbing attack and to what degree purported terrorist ideology or mental health issues played a part.
Not a fan of @MailOnline but they have details on today's #SydneyStabbing

– Mert Nay, 21, Turkish-Cypriot parents
– Wanted to or has converted to islam
– Had anti-anxiety medication Antenex on him
– USB contained various files on terrorismhttps://t.co/FgYQ47bt9J

— RelaxedQLDer (@ClimateCritic18) August 13, 2019
Marayong suspect described as loner previously arrested in possession of knife:
Reports told of the suspect living with his mother and sister at a home in Marayong. It remained unclear when he was 'committed' to the Marayong Mental Health clinic.
Of note- prior to Tuesday' Wynyard stabbing attack, Ney had been arrested in April and charged with possessing a knife.
He was reportedly put on a conditional release order when he faced court in June.
'I understand that part of that conditional release order was he had to check himself into a mental health facility but he recently absconded from there', A Current Affair reporter, Simon Bouda revealed.
A report via news.com.au cited former classmates of the suspect who described him as a quiet loner who 'didn't have many friends.'
'He was always posting about converting [to Islam] and stuff like that,' one man who wished to remain anonymous told The Daily Mail.
Adding, '[But] I didn't expect him to go this far.'
Fuller said the investigation was live and ongoing.