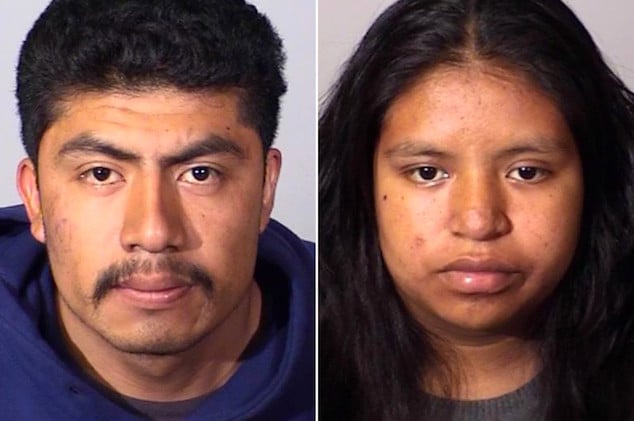 Oxnard, California couple, David Villa and Andrea Torralba arrested on suspicion of strangling their newborn baby who they said they never wanted in the first place.
An Oxnard, California couple have been arrested after allegedly strangling their newborn baby to death just hours after the child being born in hospital. The infant's death follows the young couple saying they had never wanted the baby boy according to reports.
Cops say they were called to St. John's Medical Center on Friday morning because of a newborn 'in critical condition with suspicious injuries.'
'Despite the efforts of the medical team, the infant succumbed to his injuries,' Oxnard police said in a news release.
The child's parents, Andrea Torralba Camacho, 20, and dad, David Luna Villa, 21, had first raised the alarm, but medics determined that they 'strangled the victim until he was unconscious,' according to the police.
Despite efforts to revive the boy, medics declared the boy dead after a ten hour battle to keep him alive.
During questioning, the mother conceded never wanting the baby and that Villa was not the child's father- Sgt. Brandon Ordelheide told via ABC7.
Torralba and Villa were arrested for investigation of assault on a child resulting in death, a felony, with the couple's bail set at $5 million the LA Times reported.
Not immediately understood is what compelled the mother to continue her pregnancy despite the couple's expressed desire not to have a child. Or why they simply didn't give the newborn child to authorities to locate a new home for the baby boy?
Under state law, a baby up to three days old can be anonymously surrendered at sites such as hospitals and fire stations. In 2017, the last year for which data are available, 88 infants were safely surrendered.
Camacho and Villa will next appear in court on Tuesday. Should they be found guilty, they potentially face 25 years in prison, according to ABC News.