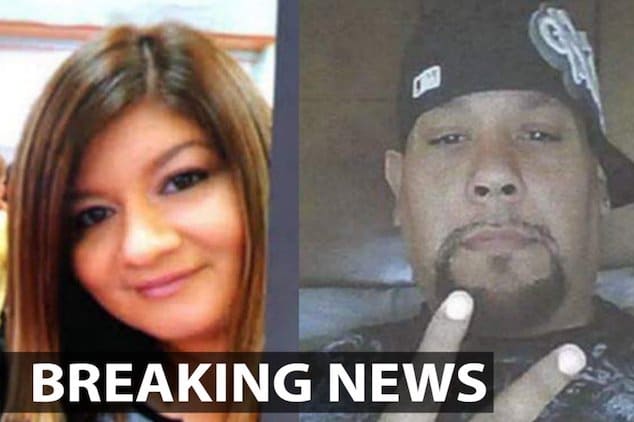 The body of missing Devine, Texas mom, Jessica Sanchez is found alongside her ex boyfriend, Jorge Jaramillo – suspected of abducting her- in a purported murder suicide.
The body of a Texas woman kidnapped from her home in Devine at gunpoint June 30 has been found along with that of the ex-boyfriend suspected in her abduction.
The family of Jessica Sanchez confirmed that two bodies found Tuesday in Medina County, Texas, were of her and Jorge Jaramillo, who may have climbed through a window to get to her.
The medical examiner had not determined a cause of death by Tuesday evening, with KENS-TV reporting that the pair's deaths were an apparent murder-suicide.
'We know they've been here for a while, because we've been looking since last Sunday, so 8, going on 9 days,' said Medina County Sheriff Randy Brown.
'We hope and prayed for a better outcome,' said Sheriff Brown. 'It's been very aggravating.'
Sanchez had separated from Jaramillo in May after seven years together, and had filed an emergency order of protection against him 'following a recent incident involving a knife,' police told KENS.
At the time of Sanchez's abduction, Jaramillo allegedly broke through the window, locked the woman's three girls in the laundry room, and dragged their mother away according to News4SA. A reward had been offered for any information leading to Jaramillo's capture.
BREAKING: Medina County Sheriff's Office confirms two bodies found in Devine area related to the suspected kidnapping of Jessica Sanchez by her ex-boyfriend. Sanchez's father tells @KENS5 it appears to be murder-suicide. #kens5eyewitness pic.twitter.com/R8A7RjcYxN

— Jaleesa Irizarry (@JaleesaReports) July 9, 2019
BREAKING: The body of MISSING Devine woman Jessica Sanchez was discovered near this rural home off County Road 4514. Her body was found alongside her ex-boyfriend's Jorge Jaramillo. They had been missing since June 30th. Latest information tonight. pic.twitter.com/ulb3sofIhw

— Matthew Seedorff (@MattSeedorff) July 10, 2019
Just spoke with the farmer who found missing Jessica Sanchez and Jorge Jaramillo dead in a wooded area. He believes they have been there for about nine days. Just across the street from where Sanchez's vehicle was found. #kens5eyewitness #devinepd pic.twitter.com/DUUTWTtcec

— Roxie Bustamante (@RoxieBTV) July 10, 2019