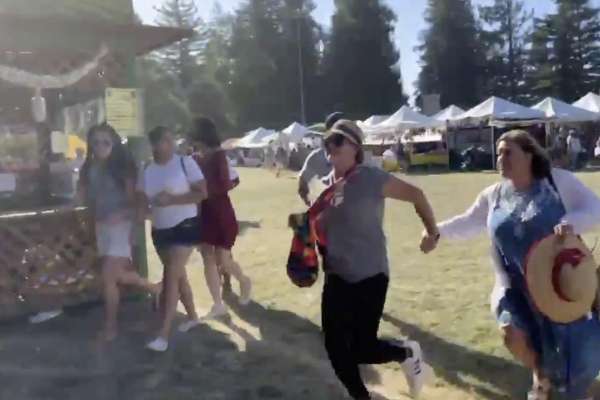 Gilroy Garlic Festival shooting in north California has according to unconfirmed reports left one boy dead and up to 11 injured as active shooting continues an hour after shots were fired.
Cops are responding to reports of an active shooter — with multiple victims — including social media reports of at least one boy dead – at a food festival in California.
** Updated reports told of three dead at the hands of up to one to two shooters in camouflage (see below). A manhunt was on the way for a possible accomplice after police said the shooter was killed after being confronted by police.
**Original story: Gunfire erupted at Christmas Hill Park in Gilroy, outside Santa Cruz, at around 6pm Sunday as the annual festival was finishing up its third and final day.
'Holy sh*t I had just left the Gilroy Garlic Festival when some guy started shooting up the place,' posted Bay Area resident Sarah Belle Lin on Twitter. 'I'm so scared for all the families and people still there.'
Ambulance crews were receiving reports of at least 11 victims at the Christmas Hill Park event — described online as 'three full days of great garlicky food, live entertainment, and family fun.'
'Who shoots up a garlic festival bruh?' posted one festival goer, who was captured on cellphone video.
The footage shows (see below) countless people running in all different directions during the mass shooting. It remained unclear the number of shooters and whether the shootings were targeted or indiscriminate?
'Random shooters started shooting everywhere,' tweeted Lizet Gonzalez. 'We're still waiting while they find them.'
Why? Gilroy Garlic Festival shooting suspect motive
I'm currently in the gilroy garlic festival with my family. Please pray everyone. Random shooters started shooting everywhere. One boy is dead so far and others injured. We're still waiting while they find them.

— Lizet Gonzalez (@Littlelizet) July 29, 2019
#BREAKING UPDATE: Ambulance crews were told 11 people down in a reported shooting at the Gilroy Garlic Festival. https://t.co/ufzR4VllUL pic.twitter.com/giApm5t2bX

— Stephen Ellison (@sj_ellison) July 29, 2019
Guy on Fox News said a guy in camo with a machine gun did the mass shooting at the Gilroy Garlic Festival in California. There may be dozens killed. Could be 11 shot or 50. I guess it was a mentally ill white teen again. Since school is out these shooters are targeting festivals.

— Machiavellian News (@JamesPup) July 29, 2019
WARNING VERY GRAPHIC!- Shooting at The Gilroy Garlic Festival! Praying for everyone involved! 😥🙏🏾 #Gilroy #shooting pic.twitter.com/78pedkxXR6

— WX-EatonvilleWA (@EatonvilleWAWX) July 29, 2019
LATEST: Various eyewitnesses say the shooter at the Gilroy Garlic Festival was a white male in his 30s, in a hat, glasses and camouflage. "He could blend in real easily," one eyewitness said on local news. Reportedly a semi-automatic rifle used but that is unconfirmed. #Gilroy

— Omar Moore (@thepopcornreel) July 29, 2019
Shooting remained active an hour after gunshots first rang out: 
The SFChronicle reported Gilroy Fire officials saying not wanting private ambulances going to the scene because they lacked tactical gear, suggesting there is an active shooter.
A law enforcement official who did not want to be identified said it was believed that the shooter was still at large nearly an hour after the initial reports of gunfire.
One witness, Maximo Rocha, told NBCAreaNews that he saw a number of people on the ground, but he wasn't sure how may have been shot and how many were simply trying to shield themselves.
He said that 'quite a few' of them were injured in some fashion, 'because I helped a few.'
The story is breaking and updates will be made as more information is made available.
Founded in 1979, the Gilroy Garlic Festival bills itself as 'the world's greatest summer food festival,' reports the LATimes. The three-day event, held at Christmas Hill Park in the town southeast of San Jose, is hosted by community volunteers and raises money for local schools, charities and nonprofit organizations.
The festival attracts tens of thousands of people every year to the Santa Clara County town of 48,000.
Welcome to a brave new America…. and yet another mass shooting.
BREAKING: witnesses report a shooter standing on or near a stage shooting into the crowd at the Gilroy Garlic Festival. Stay safe!#Gilroy#GilroyGarlicFestival pic.twitter.com/K4f24GAIgB

— Jawn Deaux (@JawnDeauxCorp) July 29, 2019