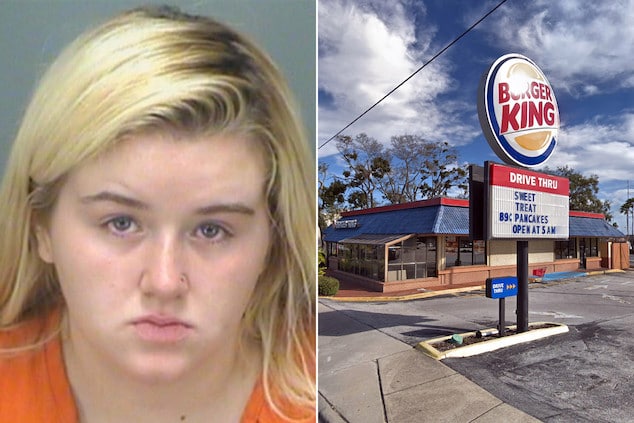 Anastasia Lantier Burger King hot coffee fracas: Seminole, Florida teen arrested after throwing scalding hot coffee on fast food worker,

Cynthia Crumb.
Also making her tabloid debut is Pinellas County, Florida teen, Anastasia Lantier, 18, who was a real eyesore this weekend after going off on a Burger King worker when she decided to teach him a lesson in manners. Or rather a lack of.
According to The Smoking Gun our collective hero walked into the burger franchise in Seminole around 10:20 a.m. Saturday after experiencing 'an issue at the drive-through.'
It's there that Lantier got into a spat with fast food worker, Cynthia Crumb, 21 when our collective hero for reasons not even immediately understood to herself is alleged to have 'intentionally' grabbed a 'hot' coffee cup off the counter and thrown it at Crumb, according to an arrest affidavit.
Yes kids, you know where this is going. Quick duck! 
The piping hot coffee 'splashed all over the victim,' (oh no! too late….) burning her face, hands and arms and causing swelling, according to cops.
But there's more. 'This is my chance to shine to the world!'
From there, Lantier and Crumb got into a physical brawl, leaving both women with scratches and Lantier with a bite mark, cops said.
'Some ketch-up with that brawl ma'am?'
The fracas was eventually broken up with Lantier fleeing the restaurant with her mother before cops arriving. 
'No – we got too much ketch-up all over our sleeve- bixch!'
Cops showed up at Lantier's home in St. Petersburg later that day, with the teen admitting have grabbed the cup while claiming 'she did not know what was in the coffee cup or what she was going to do with it,' according to a police report. 
Some chicken nuggets with that? Or how about all you can eat dollar burgers this morning?
After reading her Miranda rights, Lantier 'admitted to grabbing the cup with the intention of throwing it in the general direction of the victim.'
'I am off my diet- so I pass me another dollar burger ma'am!'
Lantier upon her arrest was booked on a felony aggravated battery charge.
The burger aficionado was freed from the county jail upon posting a $10,000 bond.