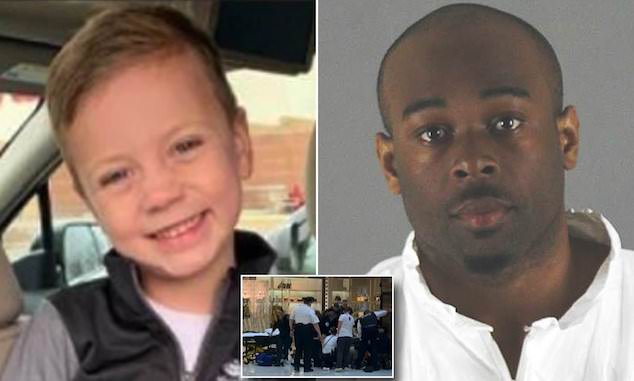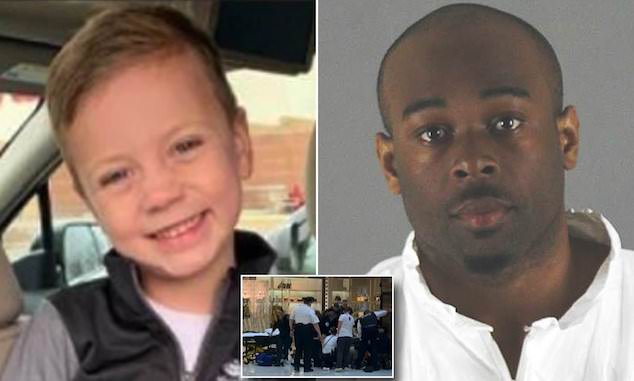 Emmanuel Aranda sentenced: Mall of America attempted murder of 5 year old boy,

Landen Hoffmann-

thrown from 3rd story railing jailed 19 years. Family cites mental illness. 
A Minnesota man who threw a 5-year-old from a third-story Mall of America balcony because he was upset over women rejecting him was on Monday sentenced to 19 years jail.
Emmanuel Deshawn Aranda, 24, pleaded guilty to attempted murder in May following the April 12 attack, in which he threw Landen Hoffmann of Bloomington, 40 feet from a balcony.
Aranda showed little emotion as Hennepin County District Judge Jeannice Reding handed down the sentence. When asked if he wanted to say anything, he responded, 'No.'
'Your act was evil and selfish, you chose to listen to the worst parts of yourself that day,' the boy's father said in a statement read by prosecutors ahead of the sentencing.
'You chose evil over good and chose to take your hate and hurt out on my precious boy. That is where your impact on us stops, you will take nothing more from us.'
SENTENCED: Emmanuel Aranda was sentenced to 19 years in prison for throwing a boy from the 3rd level of the Mall of America. https://t.co/F3B0GOmCCF pic.twitter.com/LzHX0xbJLt

— FOX 9 (@FOX9) June 4, 2019
Emmanuel Aranda sentenced: Suspect's family claim he was mentally ill for years as victim suffered extensive injuries.
Aranda approached the youngster at random, picked him up and hurled him over a third-floor railing before fleeing the scene, authorities said. He was captured aboard a light rail train.
The child survived the ordeal, but required multiple surgeries for head trauma and broken bones. No update was given on his condition.
Aranda previously told authorities he was incensed after years of women rejecting his advances and he was 'looking for someone to kill.'
Aranda's family has said he suffers from mental illness.
In the plea bargain formally approved on Monday by Reding, prosecutors dropped an aggravated-circumstances component to the charge that could have meant an additional year in prison.
With good behavior and time already served in jail, Aranda is eligible for parole in 12 years.
Emmanuel Aranda sentenced to 19 years in prison. His mom and childhood friend said he's had mental health challenges his whole life and doesn't believe he knew what he was doing when he threw Landen over the MOA balcony. #wcco pic.twitter.com/10jfNqv3RZ

— Christiane Cordero (@ChristianeWCCO) June 3, 2019