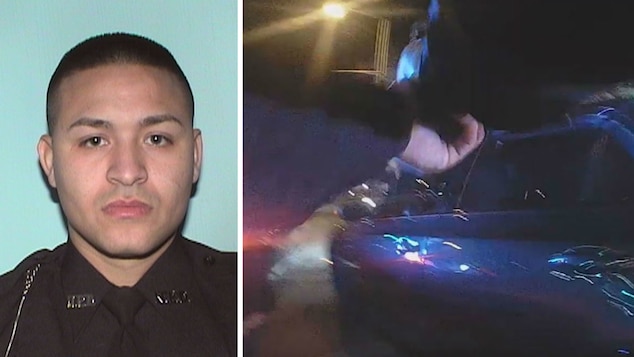 Newark cop, Officer Jovany Crespo charged with manslaughter after shooting dead fleeing motorist and seriously injuring his passenger. Incident caught on bodycam video.
A Newark, New Jersey, police officer accused of shooting dead a fleeing motorist in January was on Tuesday charged with manslaughter.
Officer Jovanny Crespo, 26, was charged in a grand jury indictment with six counts, including aggravated manslaughter and aggravated assault, in the death of Gregory Griffin, 46, who died Jan. 29, a day after he and a passenger were shot in their car as Griffin tried to speed away from pursuing officers.
Crespo, a member of the Newark Police Department for less than two years, was being held in the Essex County Correctional Facility in Newark, NBC news reported.
Acting Essex County Prosecutor Theodore Stevens said an officer who stopped Griffin's car late Jan. 28 radioed that the vehicle was speeding away and that she had seen a gun inside it. Crespo joined the pursuit and opened fire at three locations, he said.
A passenger, Andrew Dixon, 35, was gravely injured and remains 'not in good shape' almost four months later, Stevens said.
No other officers fired their weapons, he said.
COP CHARGED: wild video from two police cameras shows @NewarkNJPolice officer Jovanny Crespo firing three separate times at a fleeing vehicle, last January. Driver was killed and for the first time, an Essex grand jury has indicted a cop for such an offense. @PIX11News pic.twitter.com/MM0Dn1ihpl

— Anthony DiLorenzo (@ADiLorenzoTV) May 22, 2019
Officer Jovany Crespo jumps out of vehicle no less than three times to shoot:
Bodycam footage of the incident, released Tuesday night, (see above) shows Crespo jumping out of his moving cruiser three times to fire at the vehicle- ultimately killing Griffin and seriously injuring his passenger, Dixon.
When the car finally came to a stop , Griffin was found with a gunshot wound to his head and the passenger, Dixon, was shot in the face.
Of disconcert, during the entire six minute video, Crespo's partner repeatedly pleaded with the 'fiening' officer, to 'relax, relax,' as he appeared to overzealously pursue the getaway car. At one point, Crespo urges the officer driving the car to 'speed up' so he can get a shot in.
In addition to aggravated manslaughter and aggravated assault, Officer Jovany Crespo was charged with two counts of possession of a weapon for an unlawful purpose and two counts of official misconduct. If he's convicted, he could face life in prison, Stevens said.
The prosecutor's office said the case is the first fatal police shooting to result in an indictment in Essex County 'in recent memory.'