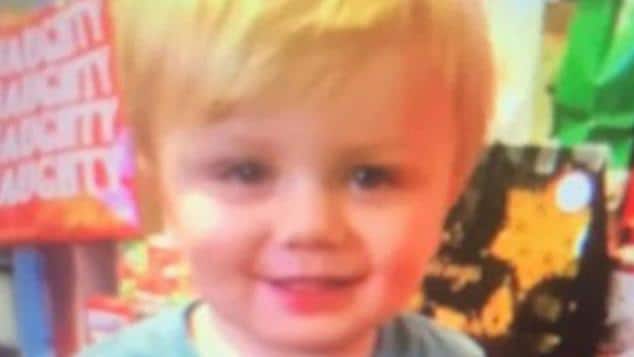 A missing Kentucky 22 month old toddler has been found safe and well after vanishing from his parents' Magoffin County residence on Sunday. But how did he disappear?
A 22-month-old boy who vanished from his family home in Kentucky on Sunday has been found alive, the Kentucky State Police announced Wednesday.
Kenneth Howard was found 'in the area of a strip mine in Floyd County, which is on the border of Magoffin County,' from which the boy disappeared, according to the release. 
Kenneth was transported to a medical facility 'for examination and treatment if needed,' the release stated.
The Magoffin County Rescue Squad said he Kenneth was being treated for dehydration, but he was in 'remarkably good condition'. 
Magoffin County rescuers said a search team with an expert tracker heard the boy cry while searching and were able to track him to the bottom of a 50-foot incline. Crews had to use a basket and a rope to get the child.
In all, Howard was found 1,755 feet away from his home over rough terrain and unaccounted for 55 hours (just over 2 and a quarter days).
Kenneth Howard has been located and is alive! https://t.co/zOmaC4txwW @naptimenancydrw @CrimeWatchDaily @LeighEgan @TraceEvPod @Crime_Shark @thevanishedpod @LEX18News pic.twitter.com/edCIFN9SiV

— Missing Pieces Network (@Network4Missing) May 15, 2019
Kenneth Howard father: 'It's just like he disappeared. No sign, no nothing'.
The boy's discovery follows authorities launching a search for the missing child who vanished from his family's Magoffin County residence on Sunday, leading to the boy's father speculating his son may have been abducted.
Kenneth's father told authorities he was in the front yard with the boy, who then went behind the house. When the dad then looked for Kenneth behind the house, the boy was gone.
'It's just like he disappeared. No sign, no nothing,' the father, Elden Howard, told WKYT. 'That's the reason [I've] started to think, if we can't find him, somebody's picked him up.'
'I would just like to see him come home safe,' the father reiterated. 'I guess it's adrenaline. I can't rest, can't eat. I've ate one bologna sandwich since Sunday.'
'She's in pretty bad shape too, she'd tore all to pieces. It's just not knowing what to do. We've searched everywhere we can think of they've had dog teams in here, nothing's showing up,' he said of his wife.
UPDATE… ❤️❤️❤️
Kenneth Howard, 22 months old, missing since Sunday, HAS been safely found ALIVE!!
❤️❤️❤️❤️❤️❤️❤️ pic.twitter.com/rQI8lhOET5

— Mickey Van Deren (@LtGovMickey) May 15, 2019
Missing Kenneth Howard was at risk to elements and wildlife:
Trooper William Petry of the state police during a press release said crews concentrated on the wooded hillside behind and around the family home, and that search crews had been challenged by the terrain, which was described as being steep and covered by trees and brush. The search for the missing toddler included helicopters, drones with thermal cameras, off-read vehicles and dogs.
Petry says the temperature was in the 40s the night the boy disappeared and he didn't have a jacket on, putting him at risk for hypothermia. He added there are coyotes, bears and red foxes in the area, saying, 'We have a large amount of wildlife that could be a danger to the child.'
The father told the station he has offered a $5,000 reward to anyone who returns the boy, no questions asked.
'I would just like to see him come home safe,' he said.
Read a Facebook post by the Magoffin County Sheriff's Office, 'There is no limit to the effort being made to find this sweet child.'
To date it remains unclear how Kenneth ended up at the strip mine some 1,755 feet away from the family home and how the child managed to survive his ordeal and the elements. Investigators have yet to say how the 22 month old boy seemingly managed to wander off on his own undetected.
22 month old Kenneth Howard, missing for approx 55 hrs from his home in rural Magoffin County KY has been found. Answered prayers! pic.twitter.com/3VFSlOYBoq

— Billy Pickering (@CFBTigers) May 15, 2019