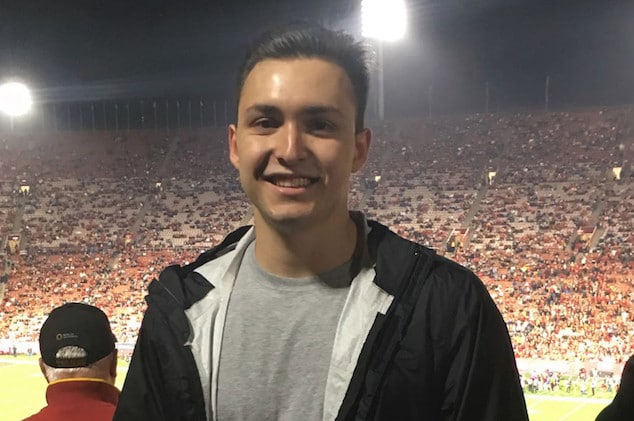 Sacramento State senior, Will Molina dies after 'accidentally' being shot dead by a pellet gun during a fraternity party. Charges may be forthcoming. 
A California college student has died after being shot by a pellet gun at a fraternity party.
Will Molina, a senior at Sacramento State, had passed out at an off-campus Pi Kappa Alpha gathering Friday when an unidentified friend fired a pellet gun at his chest, KTXL reported.
First responders told dispatchers the 21-year-old was accidentally shot circa 3 a.m.
'He was shot in the chest with a pellet gun, went unresponsive and is now in cardiac arrest,' officials said during a dispatch call, according to KOVR.
Molina was transported from the house to a local hospital, where he died from his injuries, authorities said.
School officials confirmed the Pi Kappa Alpha member's death in a statement, saying grief counseling will be available to students.
'I am heartbroken over the loss of this young man, and I know that the Hornet Family mourns with Will's family,' Sacramento State President Robert Nelson said. 'Our hearts go out to Will's friends and family, and we are working with family on arrangements to honor his memory.'
Adding, 'I've spoken to his family about it and we will have a diploma for him. He will graduate.'
Molina a business major was a graduate of Folsom High School had been set to graduate from Sacramento State in May.
To date no arrests have been made, with officials indicating charges may be filed against the friend who fired the fatal shot.
'It's a very tragic incident, however, for me to call it an accident, I can't do that,' Sacramento Police Officer Linda Matthew told KTXL. 'So that's where it's going to come from the district attorney.'
Not immediately clear is how the pellet gun came to be in the position of a fellow fraternity member and why the gun was fired at Molina.
A vigil was held over the weekend with immediate family members of Molina declining to attend.
A candlelight vigil for @sacstate student, Will Molina, who died Friday morning continues to grow with support. @TheStateHornet pic.twitter.com/m9BAYYT0lg

— Dom_V. (@Dom_Vitiello) April 15, 2019
The brothers of Sigma Phi Epsilon, California Theta would like to express our deepest condolences for the loss of Will Molina, brother of the Theta Tau chapter of Pi Kappa Alpha. Tonight we all stand as IFC brothers to one another is this tragic time. Please know that the br… pic.twitter.com/mF5AKDPHE5

— CSUS ΣΦΕ (@Sigepsacstate) April 13, 2019