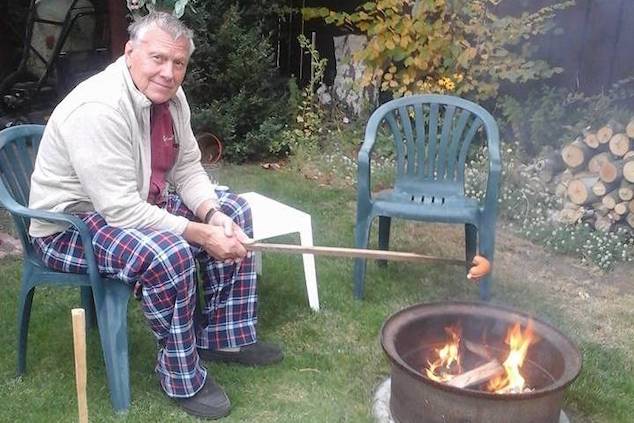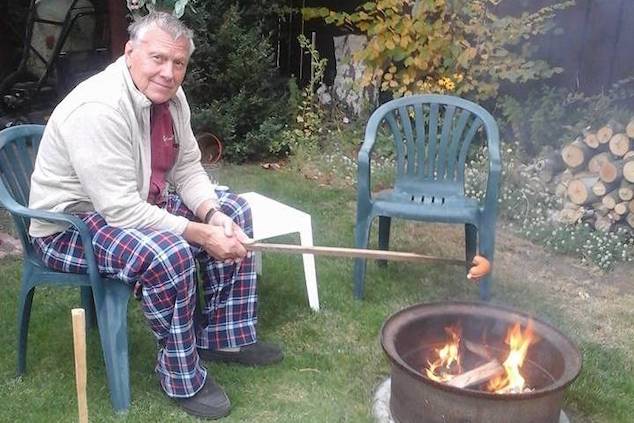 Penticton shooting: A 60 year old British Columbia, Canada man arrested after gunning down 4 individuals dead – the result of a neighborly dispute. 
A 60-year-old Canadian man has been arrested after allegedly killing four individuals in a 'targeted' series of shootings on Monday, British Columbia police said.
The gunman, since identified as John Brittain– killed two men and two women in three locations within about three miles of each other in the city of Penticton, said Ted De Jager, superintendent of the Royal Canadian Mounted Police. The first shooting was reported at 10:30 a.m., with the suspect driving himself to the Penticton RCMP station and turning himself in by 11:30 a.m., De Jager said during a Monday press conference. 
The victims were not identified, pending notification of their families. Police said they believed the gunman knew all of the victims. That said one family member revealed his uncle, Rudi Winter, 71 (pictured above) as one of the gunned down victims. 
'While the investigation remains active and ongoing, we do believe this was a targeted incident,' Mr. De Jager told reporters.
The shooting was the deadliest on record in Penticton, a city of about 34,000 people that is about a four-and-a-half-hour drive from Vancouver. Throughout the province, mass shootings are rare: It was only the fifth shooting in British Columbia that killed more than four people. The last such shooting was in 1996, according to Penticton Western News.
It was not immediately known what type of gun had been used in the attacks. 
Come Tuesday morning, Canada's Global News reported Brittain being charged with three counts of first-degree murder and one count of second-degree murder.
Penticton shooting motive: 
While a motive for the shootings was still unknown- a wife of one of the murder victims told Castanet News she suspected the onslaught was provoked as a result of neighborly disputes.
Of note, Canada's Global News reported the nephew of one of the victims saying his uncle may have been killed because of a grudge by a former neighbor.
Jeff Schwarz said his uncle Rudi Winter was one of four people shot in downtown Penticton around 10:30 a.m.
Told the nephew, 'He was targeted by a neighbor that had a vendetta. My uncle was a good man, an incredible man. Gentle and loving. He will be sorely missed. We send our deepest condolences to the other victims families.'
The victim's wife, Renate Winter described her and her husband having a 'frosty relationship' with the gunman's estranged wife.
'We cut a tree down in our yard and she had a fit, so anytime we did anything she had a fit, so we don't talk to her,' Renate told via the Vancouver Sun. 'She called the cops because my husband was putting rocks in between our properties, and maybe his big toe went on her property.'
Police have not publicly confirmed the identities of any of the victims except to say two victims were identified as men along with two women in their 60s and 70s.
'Determining why this occurred is part of our ongoing investigation,' De Jager reiterated during Monday's press conference.
Adding, 'I understand that this is a deeply troubling incident that has taken place in our community. Our hearts and thoughts are with all those impacted by this terribly tragic incident.'
"It's not random. This isn't somebody walking down the street with a rifle," Supt. Ted De Jager, calling the four murders "very targeted."#Penticton RCMP says all four victims in the shooting spree were known to the alleged shooter. @ccdacre reports: https://t.co/9RBT4ud55V pic.twitter.com/UlWEE4AHO9

— Alanna Kelly (@AlannaCKelly) April 16, 2019
Gun Violence in Canada:
Gun owners in Canada must be licensed. Before a license is granted, officials check the buyer's past for any violent crimes or behavior, crimes involving firearms or violent episodes related to mental illness in the preceding five years.
Handguns, semiautomatic and automatic weapons must be registered with the federal government, but lawmakers eliminated a national registry of rifles and shotguns in 2012.
Last year, Prime Minister Justin Trudeau proposed expanding the background review to the licensee's entire lifetime while resuming the record-keeping for some rifle and shotgun sales, prompting a fierce pushback from some gun owners.
Debates over gun laws escalated in Canada last year after a shooting in Toronto killed two people and wounded 13 others in July. In response, the city council suggested the federal government ban handgun sales in the city, while the Montreal City Council called for a national ban on the weapons.