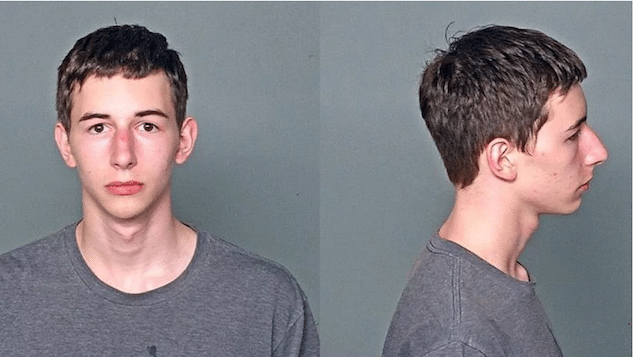 What led to Wisconsin teen, Alexander Kraus shooting his Grand Chute grandparents dead along with planning attack on his high school? 
A 17 year old teen has been arrested after allegedly killing an elderly couple at a home in eastern Wisconsin and planning to launch an attack against his own high school.
Officers found the victims dead from gunshot wounds at their house on West Edgewood Drive in Grand Chute during a welfare check at 11.37pm on Sunday. Alexander Kraus, 17, was arrested at the scene of the crime.
Kraus was booked into the Outagamie County Jail on two counts of first-degree intentional homicide according to a statement released by Grand Chute Police.
While authorities declined to initially release the victims' names, police said the teenage suspect knew them. 
A report via WHBY identified the victims as Kraus's grandparents, Dennis Kraus, 74 and his Letha Kraus, 73.
Come Monday, Neenah Joint School District released a statement saying Kraus had also planned an attack at Neenah High School, where he is a junior-  Associated Press reported.
During investigations, Grand Chute police officer Travis Waas said Kraus admitted to shooting the Grand Chute couple along with allegedly plotting to cause harm at the school. 
Waas said a long gun, believed to have been used in the crime, was recovered at the home. No information has been provided on why Kraus shot the couple. 
Investigators learned about the school plan in talking with Kraus and recovered documentation relating to it, Waas said. 
The school district released a statement saying police determined there was no danger to students and staff at the high school and that the school day would proceed as normal. 
Additional counselors were available to students and there was an extra police presence at the high school, the district said. 
Kraus is expected to make his initial court appearance within the next 48 hours. 
UPDATE: Police believe 17-year-old Alexander Kraus killed his grandparents in a Grand Chute home. https://t.co/60vvFU3mxs #whby pic.twitter.com/Mfl5ujcDz5

— WHBY (@whby) April 15, 2019