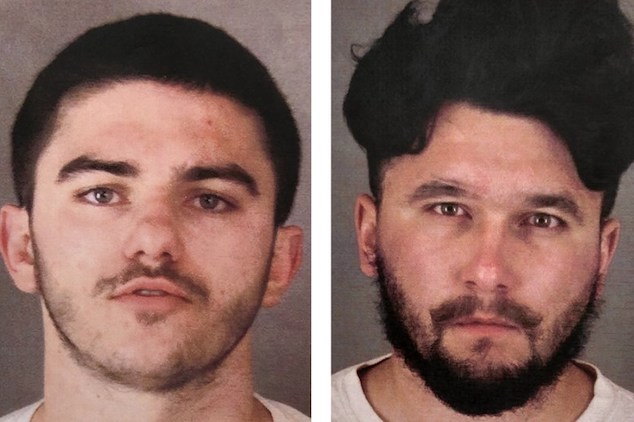 Aranda Briones murder: Brothers- Owen Skyler Shover and Gary Anthony Shover charged in the believed murder of a missing Moreno Valley, California girl.
Two brothers suspected of killing a missing Moreno Valley, California teen girl were on Friday formally charged with her murder.
Owen Skyler Shover, 18, and Gary Anthony Shover, 21, were charged with the murder of missing 16 old teen girl, Aranda Briones told the district attorney's office in a released statement.
Aranda was reportedly last seen on Sunday, Jan. 13 near the Moreno Valley Community Park. Her family said the last person she was with was Owen Skyler Shover, who claimed she was dropped off there to be with one of her friends, and was spotted getting into a gray four-door car. Sheriff's officials said a camera system that was reviewed negated the brother's timeline.
'We just want her home,' said her brother, Daniel Briones at the time of Aranda's disappearance . 'That's honestly all we really care about. We just want her home.'
Aranda Briones, 16, from Moreno Valley, California has been missing for more than a week. The FBI and human trafficking investigators are all involved in the search. Here's what we know so far about what happened. https://t.co/q9faqojDZC pic.twitter.com/PukCkW5Ywz

— Trending Gist (@todaytrail) January 23, 2019
Aranda Briones murder: No known motive.
Of disconcert- authorities speculated the girl having been channeled in the services of human sex trafficking.
The brothers appeared in court on Friday, and they were assigned a public defender. Their arraignment was continued until March 1, with no bail was set.
Police said the brothers were high school friends of Aranda, who was last seen with Owen.
Investigators have not found Aranda's body, with the press enterprise reporting they found evidence in one suspect's backyard that led investigators to believe the girl was killed, according to the Riverside County Sheriff's Department.
To date no motive has been publicly tended as to why the brothers may have sough the girl's death.
A guilty verdict would make each eligible for the death penalty.
The missing girl was described as being five foot four inches, weighing about 110 pounds, with brown hair and hazel/green eyes along with having a unique mark on her chin. Aranda was also described as having a nose piercing and was last seen wearing a white and blue jacket, a dark shirt and dark jeans.
Foul play? Missing California teen turns family's lives into living hell
HAVE YOU SEEN HER? 16-year-old Aranda Briones has been missing for over a week after disappearing from a Moreno Valley park https://t.co/d9IldrFogD pic.twitter.com/vaisUnftst

— CBS Los Angeles (@CBSLA) January 22, 2019