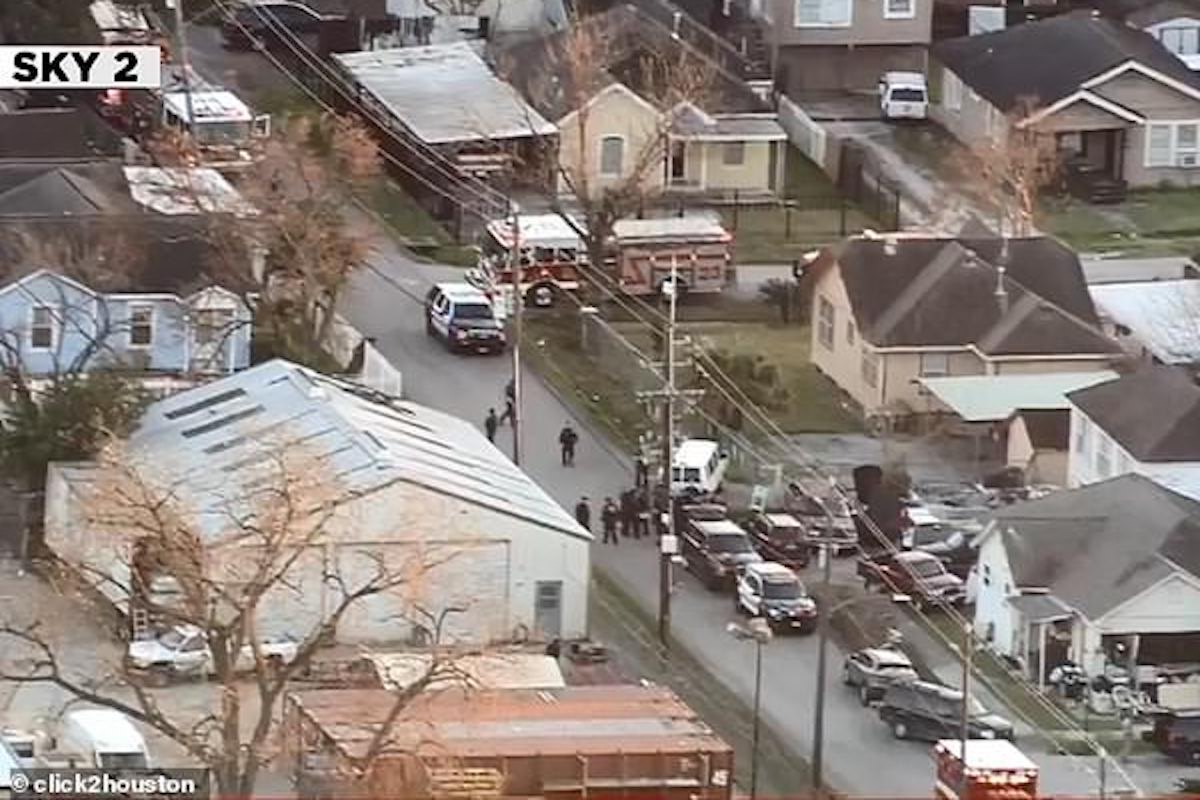 Houston Police shooting leads to five narcotics officers being shot, two critically while serving drugs warrant- two suspects dead and third contained as 15 rounds of gunfire heard.
Five Houston narcotics police officers have been shot while serving a warrant on a drug charge. 
Houston police confirmed two suspect dead, while SWAT officers were on hand earlier in the evening after a third suspect barricading themselves inside. That suspect was contained according to police reports- it remained unclear if the 3rd suspect was alive or not. 
Gunfire was opened as cops sought to serve a drugs warrant to occupants inside a home in in southeast Houston, Harding, around 5pm Monday, WCTV-TV reported.  
Joe Gamaldi, president of the Houston Police Officers' Union, said three of the officers are stable, while the other two are in critical condition. Recent reports told of one officer already being being discharged while the two officers in stable condition were expected to make a full recovery. 
The officers are being treated at Memorial Hermann Medical Center and one was transported by helicopter.
'I've just learned one officer was shot in the leg, one in the shoulder and one in the face,' KHOU 11 News reporter Brett Buffington tweeted earlier in the evening.
Five police officers injured in Houston shooting incident https://t.co/MQ68FWn2qL

— Rosanidia Velasquez (@rosavelasqez) January 29, 2019
Police now confirm five officers have been shot in SE Houston. #khou11 pic.twitter.com/nIoDpQYk1S

— Brett Buffington (@BrettKHOU) January 28, 2019
Houston Police shooting: Resident tells of hearing 15 rounds of gunfire.
One woman Jasmine Castro who lives nearby- told of hearing about 15 rounds of gunfire ABC Action News reported.
Undercover officers were part of the group who were serving the warrant on Monday evening.  
Aerial view shows the shooting occurred in a residential area near Crosstimbers and Harding.
Texas Governor Greg Abbott called the shooting a 'horrific attack on police officers' in a statement. 
'This evening's horrific attack on police officers is a solemn reminder of the service and sacrifice our brave men and women in law enforcement make every day to keep us safe,' Abbott said. 
Harris County Sheriff's deputies and ATF agents are assisting at the scene.
Officials said the shooting scene has been secured and residents will be allowed back in the area soon, KHOU-TV said.
Today's tragedy resembles the 2016 Dallas shooting that saw a suspect, Micah Johnson– ambush and kill five officers while injuring nine others. 
Sources tell me two of the suspects in the house are dead, police are using a robot to search for the third inside the home. #khou11 pic.twitter.com/cMudHBmbOC

— Brett Buffington (@BrettKHOU) January 29, 2019