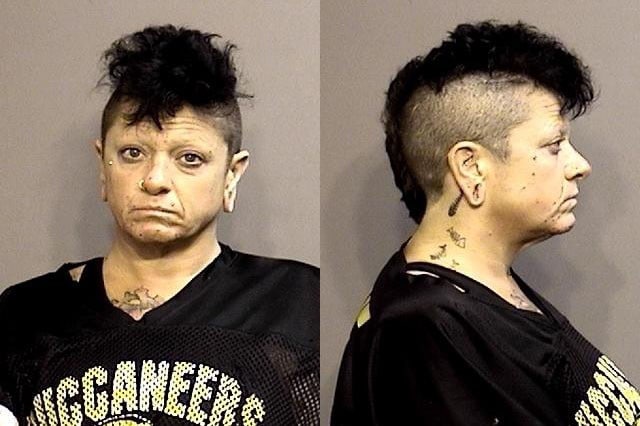 Amy Nicole Parrino arrested after assaulting lover who refused to perform sex act on her at their Missouri, 

Columbia, Boone County home. 
A Missouri woman sporting a 'mohawk' haircut has been arrested after clobbering her live in lover after the man declined her overtures for him to perform a certain sex act on her.
Amy Nicole Parrino, 43, was booked on charges of third-degree domestic assault and first degree sexual abuse for the Sunday night incident that occurred at the couple's Columbia, Boone County home, according to a probable cause affidavit obtained by The Smoking Gun.
During the 9:45 p.m. attack, Parrino allegedly punched her victim up to 25 times along with striking him with a belt, cellphone and brass plate, according to the court filing.
But it gets grimmer.
A naked Parrino then chased the man around the house as he pleaded for her to 'leave him alone.'
But Parrino did not relent, as she 'pushed him to the ground and then sat on his face,' the victim told police, according to the affidavit.
The victim told investigators that while Parrino 'was sitting on his face she said to him 'eat my p—-y,'' the court document states.
For a 'few seconds' during the encounter, the man said, he could not breathe and that he was 'scared to death,' according to the affidavit.
The victim later told police that the whole incident made him 'sick' to his stomach and that he did not want to do anything sexual with Parrino reported the Columbia Daily Tribune. 
The 'episode' led to Parrino's male victim suffering a 4-inch-long cut on both his right arm and his left arm. He also suffered a cut on the bridge of his nose as a result of Parrino having sat on his face.
The man was also left with red marks on his chest where he said he was hit with the belt.
According to the victim, 'violence' between him and Parrino 'has been getting worse and more frequent,' the document noted.
He told police he 'don't know what she's going to do next' and that he 'fears for his safety all the time.'
The man added that Parrino will get 'very violent, very quickly.'
A regard of Parrino's mugshot which has since made the rounds (can you guess why…?) reveals her wearing a ring in her left nostril along with a facial piercing near her eye, as well as her donning a black 'Buccaneers' jersey.
But there's more kids.
Cops booked Parrino with an additional charge after allegedly smearing fecal matter on the walls of a jail cell and breaking a jailhouse phone..
A judge ordered Parrino to have no contact with the victim- with the woman since barred from the man's residence.
Parrino remains in custody in lieu of $25,000 cash bail.
Not immediately clear is what led to the woman attacking her male victim and insisting he was obliged to 'facilitate' her…..