Nicole Merseal a Missouri mother launches lawsuit against Adventure Learning Center following St Louis daycare fight-club after toddler brawl.
A Missouri mother is suing her sons' former daycare center after two teachers hosted a 'fight club' and encouraged the toddlers to beat each other up.
Video has emerged of a December 2016 incident, which shows children beating each other to the ground while surrounding children break down in tears. 
Nicole Merseal's 10-year-old son filmed the one-day 'fight club', which took place at the Adventure Learning Center in St Louis, on his iPad according to the dailymail.
A regard of the daycare's center's statement of philosophy on its website reveals the preschool and daycare facility Louis, branding itself as a place where 'every child has the right to a safe, nurturing environment where they feel secure and comfortable.'
THIS IS INSANE– Have you seen this video? One mom is accusing that St. Louis daycare of running a "fight club."https://t.co/6HdGndY7ro pic.twitter.com/8dY0biXHYG

— Ali Bradley (@AliBradleyTV) November 1, 2018
St Louis daycare fight-club: teachers jumping up and down in excitement.
In the footage, obtained by FOX2, children are heard crying 'Oh my god' when they see the younger kids fighting. 
Footage shows a teacher jumping up and down in excitement as another puts a 'Hulk Smash Hand' – plush gloves inspired by the superhero – on each toddler's hand.
A child can then be seen punching another boy in the face, pounding his head into the floor over and over again as a group of kids circle them and watch.
The only person who tries to break up the fight is another preschooler, but he is unable to pull his friends apart.
Merseal's son filmed the video and texted it to his mother because he was worried about his four-year-old brother, who was crying after three fights.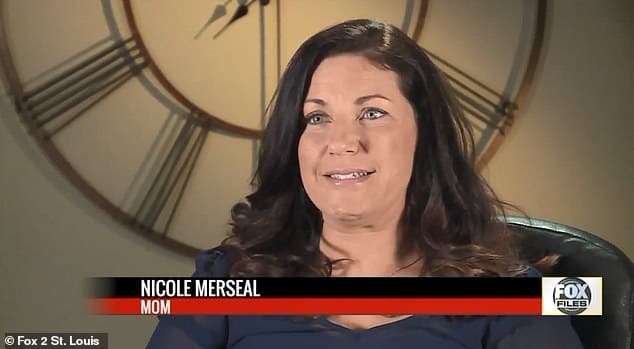 Nicole Merseal: 'My son doesn't understand why his friends were fighting him.'
'He doesn't understand why his friends were fighting him…why he was beaten up by his best friends,' Merseal told FOX2. 'And it was on his fourth birthday.' 
'In the video, he's wiping his face over and over again. The daycare worker – you see her walk over to him and tell him "You're fine" and pat him on the back and then walk and start another fight with other kids.'  
But it gets grimmer
Merseal said her son texted her the video while saying, 'the daycare was making them fight, not helping them'. 
Daycare surveillance cameras also recorded at least 30 minutes of the 'fight club', showing the repeat brawl between toddlers. 
Upon receiving her son's video, Merseal called the director of the daycare and the two employees were fired. The director also called the child abuse hotline. 
Attempts to explain what provoked the daycare fight club led to an educator saying caretakers were trying to entertain the children after the heater broke.
Long pause. Look up over the horizon. Make me and my child a violent super hero ready to beat up the world and their innocence wrought undone….
And it continues to get grimmer….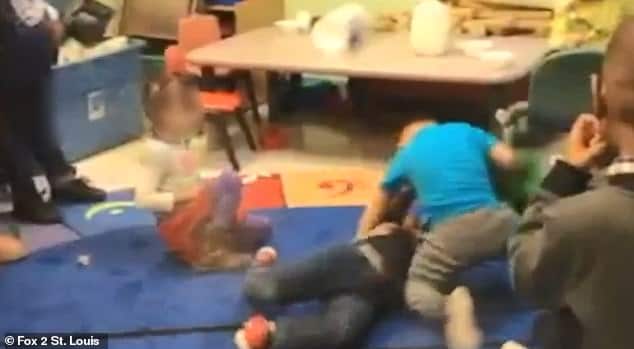 No charges against the fired teachers and 

St Louis Circuit Attorney's Office continues to remain open despite continual violations.
Despite the alarming incident and resulting outcry, the St Louis Circuit Attorney's Office declined to prosecute the daycare, which continues to remains open.
'There was insufficient evidence to prove beyond a reasonable doubt that any laws were violated,' the St Louis Circuit Attorney's Office said in a statement.
'However, that does not diminish the incredibly poor judgment by these adults who had the responsibility to safely supervise these children.' 
Following the incident, inspections at the daycare were increased- with 26 new violations being recorded against the center in the last two years.
Just this March, a four-year-old child claimed a teacher at the daycare center 'cussed at him, flicked him, grabbed him, and pushed him to the ground'. 
That same month a caregiver was seen grabbing a three-year-old child by the arm and dragging them. 
The daycare's director had been standing in the classroom at the time but did not respond to the incident. 
The incident has impacted Merseal's son, with the mother saying upon selecting a new daycare, her son asking her if, 'they were going to make him fight'. 
Merseal is now suing Adventure Learning Center for more than $25,000.
'I want them to be held accountable,' she said. 'I don't want this to happen to any other child.' 
Welcome to your child's daycare fight club, beating other toddlers is fun and optional….
This is so disturbing: Parents in St. Louis are suing after video emerged of an apparent fight club at their children's DAYCARE facility. Teachers can be seen looking on, and the only person to intervene is one of the other children. Story at 5:30 on #WBZ. pic.twitter.com/nnfzzLT12z

— Liam Martin (@LiamWBZ) October 31, 2018