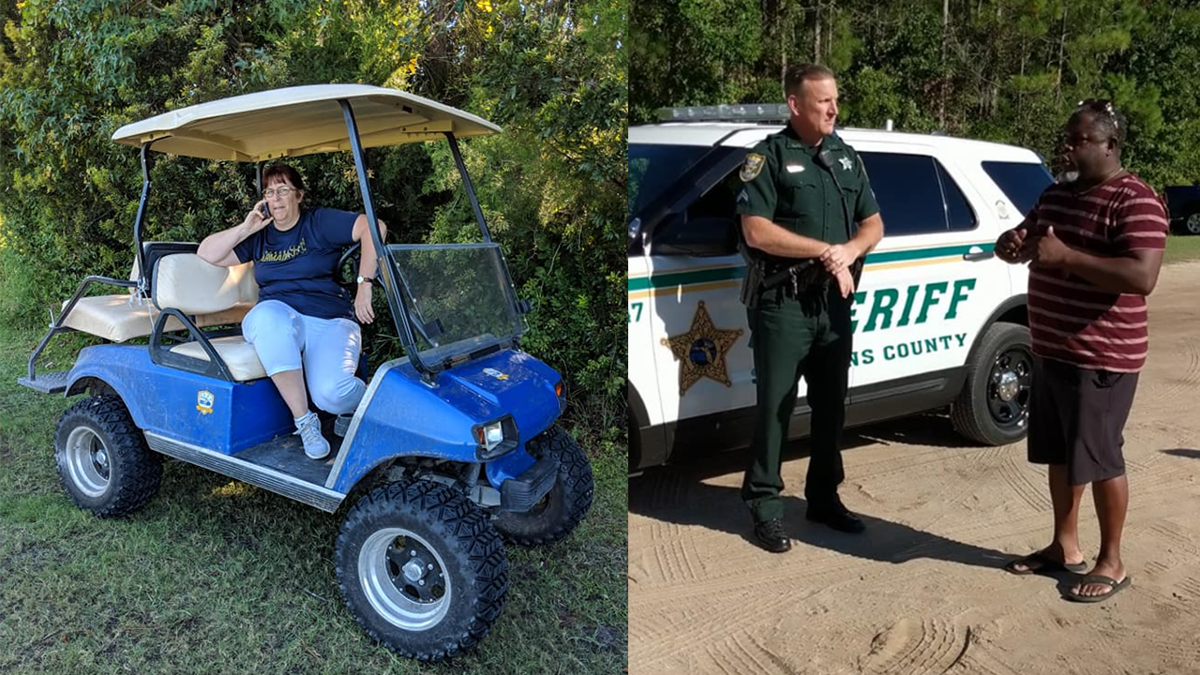 Ginger Galore Williams video, 'Soccer While Black,' starring white woman, Golfcart Gail at a 

Ponte Vedra, Florida- another instance of rampant racism. 
In yet another instance of white America perturbed or simply outraged or simply untrusting of black folk– a new video has gone viral- this time showing the effects of a white woman calling cops on a black man during a children's soccer game.
The police call came after the woman observed what she believed to be the father venomously screaming at his son's referee- when in fact the man had actually simply being cheering his son on. Something one imagines most fathers do at their children's sporting games. Including black ones.
Video shows the moment the father is forced to contend with arriving police at his teen son's soccer game at Ponte Vedra, Florida over the weekend.
'I was only talking to my son,' the father is heard telling a St. Johns County Deputy.
The video, aptly titled, 'Soccer While Black,' resulted after Ginger Galore Williams and another St. Johns County woman witnessed a field Marshall dressed in blue- siting in a golf cart getting on the phone and calling cops.
By the time Williams's video did the viral rounds- Golfcart Gail as the reporting woman would be tagged- would find herself America's newest object of hate and scorn. Which is to say- live and learn. Or maybe not…
Golfcart Gail offended and fearing for her safety: 
Posted Williams on her Facebook wall, 'A parent at my son's soccer game had the police called on him for cheering for his son during the game.'
According to Williams- the unnamed dad had yelled, 'The ref is right' upon seeing his son becoming frustrated during the game.
Golfcart Gail on the other hand wasn't having none of it, with the 'offended' woman getting on the phone and doing her civic duty and reporting yet another black person to authorities.
Explained Williams in her post, '[She] decided to spring into action and rapidly approach this parent and remind him that harassment would not be tolerated. He informed her that he was only speaking to his son'.
The dad in a bid to avoid a scene, offered to leave with his wife, nevertheless an adamant Golfcart Gail was insistent cops be called, 'because she no longer felt safe with his threatening behavior,' according to Williams.
'This man was peacefully leaving his own son's soccer game to avoid exactly this situation,' continued Williams in her post. 'Shame on you Golfcart Gail for what you did to this man and to the children who had to see this. Can you imagine how afraid his child must have been to see this happening?!'
Golfcart Gail latest most hated casualty in America: 
Another woman, Maria Morale-Walther, who also recorded the incident, told First Coast News that 'at no point' was the dad aggressive, though she heard the field marshal tell a St. Johns County sheriff's deputy she 'feared for herself and the children because she didn't know what [the father] was capable of.'
One of the deputies on scene can be heard on video telling Williams that it's within the marshal's right to call the police and that he was there to defuse the situation.
Deputies didn't detain the dad. But social media did crucify Golfcart Gail. Live and learn.
Thank goodness for Ginger Williams & other White Sisters & Brothers who stand up for decency & what's right! She is my hero today for recording this incident & ensuring the safety of this man while interacting with the police! Please release the real name of Golfcart Gail #Shame

— Robin (@Robin_KC_) October 17, 2018
An attendant at a teen soccer game in Florida over the weekend called police on a father who instructed his son from the sidelines, in what many are saying is the latest example of a white person dialing 911 on a black person who had done nothing wrong. https://t.co/nl377BB1qt

— NBC Nightly News with Lester Holt (@NBCNightlyNews) October 17, 2018
Im a Caucasian male. GOLFCART GAIL, is the epidemy of what is Ugly on the outside and the inside, Go Away you Dog!

— Brandon bowers (@Brandon55138369) October 17, 2018
Florida white Women! Stop ruining everyone's fun with your needless and petty bigotry!

"Golf cart Gail" was out of her mind and could have gotten this gentleman in trouble and/or killed. https://t.co/GnIjKFGEzz

— Lady Farmer🔮 (@djmincey11) October 17, 2018
We need to stop giving them cute names because now they are doing it for the attention. And they need to be charged!
'Golfcart Gail' filmed calling cops on black man cheering on his son at soccer game https://t.co/YibEoY1UML

— Sharalyn Bailey (@iactup) October 17, 2018
Until people like Golfcart Gail start facing some kind of legal consequence for false reports against black people it's not gonna stop.

— Phillip (@phillip_gooch) October 17, 2018