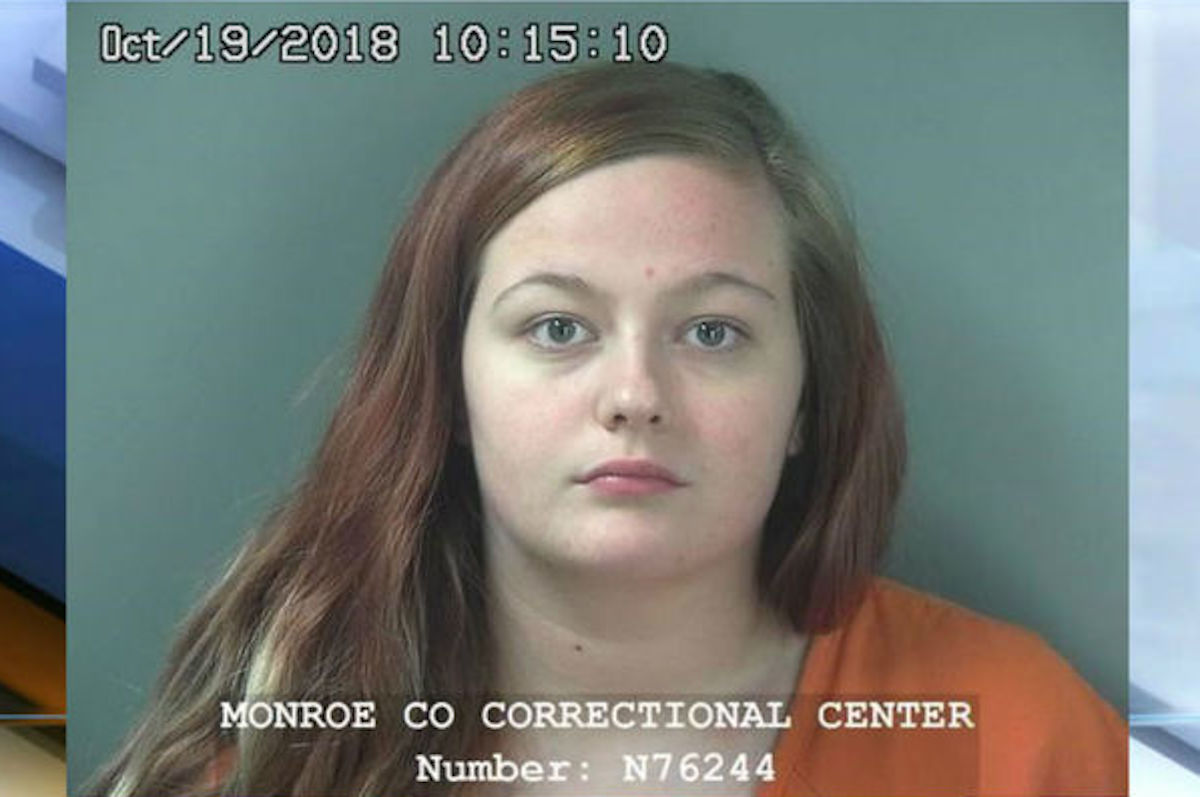 Nashville, Indiana mother, Anna Prewitt-Byers blames her 'druggie' boyfriend-Michael Witham in battery death of 7 month old Indiana daughter. Man strenuously denies claims. 
A Nashville, Indiana woman has been charged with felony battery, resulting in the death of her 7-month-old daughter.
Indiana State Police announced Anna Prewitt-Byers, 20, being charged Oct. 17 following the infant girl's death in April. In a press release, police said their investigation led to probable cause to believe that she was responsible for her daughter's death.
Appearing at Monroe Circuit Court, the Brown County mother was booked with aggravated battery, a Level 1 felony, and battery resulting in death of a person less than 14 years old, a Level 2 felony.
Police say the child was taken to IU Health Bloomington on April 18 with severe injuries which included massive hemorrhaging, abrasions, brain swelling, severe bleeding in her retina, optic nerve damage, bleeding at the base of her brain and blunt-trauma injury to her chest.
Brown County Democrat reported hospital staff contacting police and the Indiana Department of Child Services after the baby's death.
The child died April 19, but remained on life support at Riley Hospital for Children so her organs could be donated.
State police and DCS investigated the case for six months, resulting in Prewit-Byers' arrest this week at a home in Nashville.
When questioned at the hospital, Prewitt-Byers initially blamed her boyfriend for the child's injuries, according to a probable-cause affidavit. She and the baby had slept at his house before they arrived at the hospital that afternoon, the report said.
Detective Stacy Brown wrote that 'Anna showed little emotion and was not crying at all' when he interviewed her about the child's injuries. When she was told her daughter wouldn't survive, 'Anna began to cry and showed some emotion in the news,' he wrote.
Anna Prewitt-Byers boyfriend accused by girlfriend of baby's death:
Police searched the home of Michael Witham, the boyfriend, on the day the child was injured and reported finding 7 pounds of marijuana and $120,000 cash. They also found 155 grams of methamphetamine packaged for sale in an air vent.
Witham was arrested on drug charges.
Prewitt-Byers' behavior after the initial police interview continued to alert dectives that something was wrong. Detective Brown wrote that she started calling him with questions about how to get her belongings from her boyfriend's house.
The day her daughter's organs were to be harvested, the mother called Brown again to ask if Witham was still in jail, because she had planned to go to Little 500 events with the baby's father and she wanted to make sure she didn't run into Witham.
The child's father and his family also accused Prewitt-Byers of opening a GoFundMe account to collect donations for her daughter's funeral, which had already been paid for.
Prewitt-Byers demanded a polygraph examination and failed it nine days after the baby was admitted to the hospital.
Witham adamantly denied having anything to do with the baby's injuries, as the child's mother continued to accuse him. He told police that he wasn't 'a monster' and that he wouldn't bring attention to himself and his drug sales by hurting the child in the house.
Prewitt-Byers pleaded not guilty to the charges in Monroe Circuit Court on Oct. 18. Her bond at the Monroe County Jail was set at $50,000 surety and $500 cash.