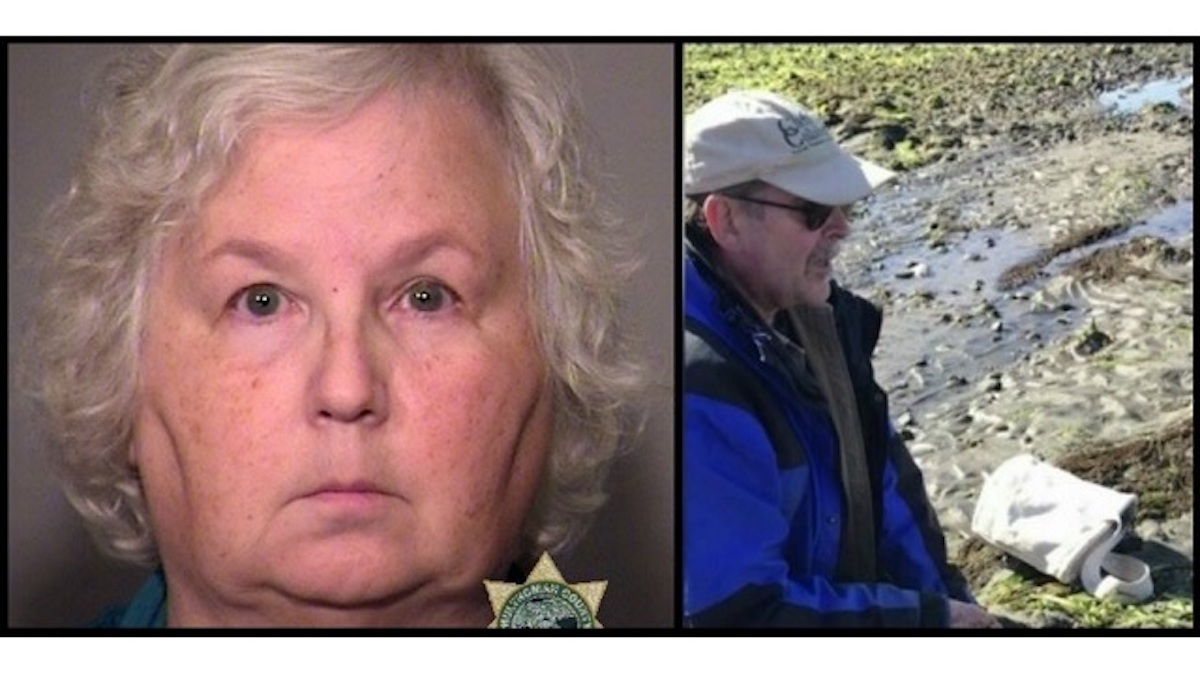 Life following art? Nancy Crampton-Brophy an Oregon romance author is charged with the murder of her chef husband at a Portland, Culinary Institute. 
An Oregon romance novelist has been accused of murdering her chef husband in a plot that the author normally conjures for her drama filled books.
Nancy Crampton-Brophy, who writes about 'finding love and the difficulty of making it stay,' was arrested Wednesday at her Washington County home after allegedly gunning down her spouse, Daniel Brophy, at the Oregon Culinary Institute in Portland, the Oregonian reported.
Her 63-year-old husband was described as a beloved teacher at the culinary school, where he was found fatally wounded June 2 in the kitchen.
The 68 year old wife's arrest follows the dramatist best known for authoring drama romance novels  filled with steamy plot twists and larger-than-life characters who dodge danger and (almost) find fortune and love.
Upon her arrest, Crampton-Brophy faced charges of murder and unlawful use of a firearm in her chef husband's death.
A synopsis of her 2015 novel 'The Wrong Husband' tells of a woman who escapes the clutches of an abusive and powerful spouse during a shipwreck in the Mediterranean Sea and who later falls for one of the men sent to find her.
Crampton-Brophy who also authored the well received, "Hell on the Heart" mentions on her personal website that she looks to her own life for inspiration for her books.
'In writing fiction, you dig deep and unearth portions of your own life that you've long forgotten or had purposely buried deep,' her author page noted. 'Granted, sometimes it is smarter to change the ending.'
The romance author who also authored the novel, 'The Wrong Lover,' also noted being married to a chef, writing, 'Like all marriages, we've had our ups and downs, more good times than bad.'
The couple had been married for 25 years at the time of Brophy's murder.
Nancy Crampton-Brophy drama author: Life following art? 
Of intrigue, following the June 2nd murder of her husband, Brophy took to Facebook where she posted the following, 'My husband and best friend, Chef Dan Brophy was killed yesterday morning. For those of you who are close to me and feel this deserved a phone call, you are right, but I'm struggling to make sense of everything right now.'
Continuing, 'While I appreciate all of your loving responses, I am overwhelmed. Please save phone calls for a few days until I can function.'
Following her arrest, the Oregonian cited of the couple's neighbors saying Campton-Brophy seeming hardly fazed after her husband's death and that she'd casually admitted police considered her a suspect.
'She never showed any signs of being upset or sad,' offered neighbor Don McConnell, whose backyard borders the couple's home. 'I would say she had an air of relief, like it was almost a godsend.'
Not immediately clear is what motivated the dramatist in allegedly killing her culinary husband.