Bakersfield mass shootings: A California father and his daughter are the first of five shooting victims identified: Laura Garcia and Eliseo Garcia as motive remains unknown.
A father and daughter who were victims of a shooting that killed 6 in and around five different locations in Bakersfield, California, including the gunman, have been identified.
Identified by family members was 32 year old woman, Laura Garcia and her father Eliseo Garcia. She and her father were shot and killed by the gunman when he went to their Breckenridge Road home reported abc30.com. 
Officials say the suspect knew Laura's father and had been to the home before.
The Kern County Sheriff's Office in a press releasee said 'it all happened in a matter of 10 to 15 minutes ,' with the crime scene covering several locations. The gunfire began last night around five o'clock at a trucking business shop.
Police say the shooter came with his wife and confronted a man inside. That's when the shooting spree began. The suspect shot the man, then killed his wife. He then chased after a witness who saw the shooting, down the street and killed him as well.
The suspect then went into a house and shot Garcia and her father. It remained unclear why he went to the house of the father and daughter.
Upon fleeing that crime scene, the suspect carjacked a nearby vehicle with a woman and child inside. He drove it to a nearby highway where he shot himself as police approached his car.
Deputies responded to all these emergencies closing in on the suspect until ultimately the suspect turned the gun on himself reported The Bakersfield Californian.
#BREAKING: This is 32-year-old Laura Garcia. She and her father were killed at their family's home on Breckenridge Road after a gunman killed his wife and two others in southeast Bakersfield.
We're told she was a loving mother will be missed by all who knew her. @23ABCNews pic.twitter.com/Ba84DHXNzs

— Feven Kay (@Feven_Kay) September 13, 2018
Family shared this photo of Eliseo Garcia, yet another one of the victims killed in Wednesday's shooting spree in southeast Bakersfield. He was a husband, father and grandfather. The motive behind these murders is still unknown. @23ABCNews pic.twitter.com/xzcxasMgxv

— Feven Kay (@Feven_Kay) September 13, 2018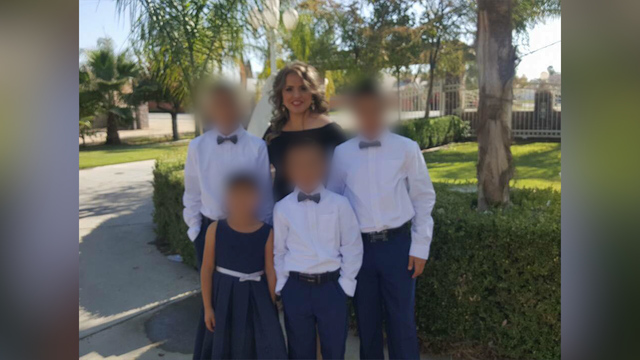 Bakersfield mass shootings: 'This is the new normal'.
'This is the new normal– if you look across the country at these types of shootings. And this is really tough for us cause we're in the middle of a fiscal emergency where we have a limited number of personnel and this required a call out of a lot of people to be out all night to work on this case,' said Donny Youngblood, Kern County Sheriff's Office.
The crime spree spanned five different crime scenes. The suspect identity and other victim identities have not yet been released.
Police say that none of the shootings were random and whether the gun was secure.
The dailymail reported victim Laura Garcia having several young children. Come Thursday her family paid tribute to her on social media.
'If everyone can keep my cousins kids in their prayers I'd really appreciate it! People are so cruel and you didn't deserve this!' her cousin Alondra Ortega said.
Police have yet to release a motive for the Bakersfield area shootings.
Sheriff's deputies are interviewing some 30 people who witnessed the shootings.
Investigators believe that the gunman acted alone.
BREAKING: Family identifies two of the victim's in yesterday's mass shooting in #Bakersfield as Laura Garcia and her father Eliseo, known lovingly as Cheo.
Both murdered in their Breckenridge Rd home.
More on senseless shooting that left 5 dead coming up live on @GDLA @FOXLA pic.twitter.com/vlUWjtDrXL

— Gigi Graciette (@GigiGraciette) September 13, 2018